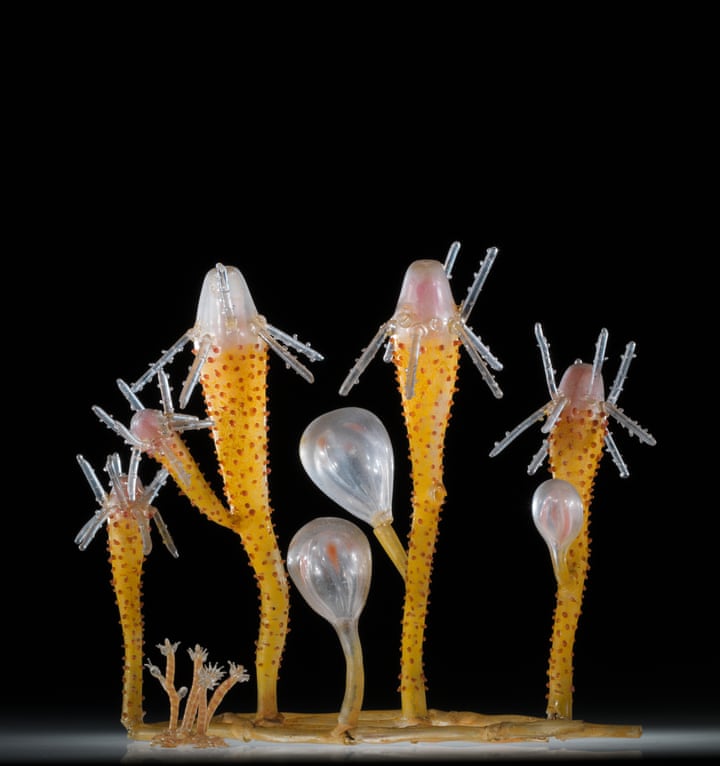 Photo: Cornell University
Small predators related to jellyfish (Hydroids) and other marine creatures made of glass may be viewed at the Corning Museum of Glass until January 8, 2017.
Visitors to the Boston area are often taken to see the famous glass flowers created by Leopold and Rudolf Blaschka in the late 19th and early 20th centuries and displayed at the Harvard Museum of Natural History in Cambridge. I have taken guests there myself.
But it was news to me that the Blaschkas also created sea creatures in glass. Many of those were acquired by Cornell University in Ithaca, N.Y.
According to Wikipedia, the marine specimens came before the flowers.
"Leopold Blaschke was born in Český Dub, Bohemia, to a family which originated from Josefuv Dul (Antoniwald) in the Iser or Izera Mountains, a region known for processing glass, metals and gems. The family had also spent time in the glassblowing industry of Venice.
"Leopold displayed artistic skills as a child, and was apprenticed to a goldsmith and gemcutter. He then joined the family business, which produced glass ornaments and glass eyes. He developed a technique which he termed 'glass-spinning,' which permitted the construction of highly precise and detailed works in glass. He also Latinised his family name to 'Blaschka,' and began to focus the business on the manufacture of glass eyes.
"In 1853, Leopold was suffering from ill health and was prescribed a sea voyage. He traveled to the United States and back, using the time at sea to study and draw sea animals, primarily invertebrates.' " Read how he started making replicas of them at Wikipedia.
The Guardian alerts us to the current exhibition of the Blaschkas' marine work in upstate New York. "Father and son team Leopold and Rudolf Blaschka created perfect reproductions of invertebrate marine life in glass in their studio in Germany in the 19th century. Cornell University acquired a collection of 570 items in 1885, and a selection of these can be seen at an exhibition at the Corning Museum of Glass. 'Fragile Legacy: The Marine Invertebrate Glass Models of Leopold and Rudolf Blaschka' runs until 8 January, 2017."
Amazing photos here.