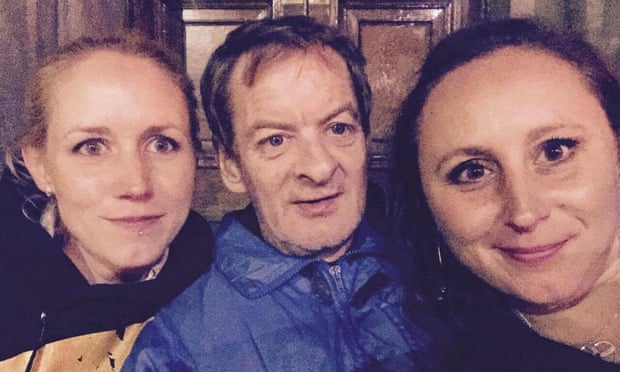 Photo: SWNS
Annis Lindkvist, right, and her younger sister, Emma Åhlström, with Jimmy Fraser, a homeless Scot they invited for Christmas in Sweden. 
I have never been sure how to react to someone who is homeless, but I have learned smiling is better than walking past, head down.
Mother Teresa said to smile. A woman who runs an excellent Rhode Island homeless agency told me she doesn't give anyone money but talks to people and tries to see if she can help with a referral or something to eat. A formerly homeless veteran told me he always talks to veterans and tells them where to find veterans services. Once he took in a stranger overnight. Some people will buy a sandwich or a cup of coffee.
Last week as I was talking to an employee of a refugee agency, I became curious about how he was led to his current work. He said, "One day I stopped walking past people."
He didn't initially look for refugee work, but he landed there after launching his personal outreach to homeless people and a subsequent stint in Americorps. He used to talk to people on the New York City streets, asked what they needed and delivered food, socks, and as many of their needs as he could.
So many good people out there showing kindness one person at a time!
This Guardian story about a Swedish tourist in Scotland who not only befriended a homeless man but invited him for Christmas with her family (and sent him airfare) is really over the top.
Libby Brooks writes, "A homeless man from Edinburgh has described the 'incredible act of kindness' of a tourist who invited him to spend Christmas at her family home in Sweden.
"Jimmy Fraser was begging on George Street in the city centre when Annis Lindkvist and her sister Emma, from Sagmyra in central Sweden, asked him for directions.
"They struck up a friendship and swapped numbers at the end of the trip, staying in touch by text before Lindkvist offered to pay for his flights so he could spend a week with her family over the festive period.
"Fraser, who became homeless following his divorce 13 years ago, said: 'It's weird, I know. I was begging on George Street and these two women came up to me and the next thing I knew I was in Sweden. People promise you things all the time on the street but they never materialise.
" 'But I thought I'm going to go for it as it's once in a lifetime. I couldn't believe it anyway at first. People tell you "see you tomorrow, I'll get you a drink" and then nothing happens. But this did happen, actually, so it was really weird.'
"The 54-year-old former security guard, who went to an ice hockey match, Christmas markets and midnight mass with his host's family and friends, told the BBC News website: 'It was a beautiful experience.' …
"Lindkvist described her own doubts about issuing such an open invitation to a stranger. 'We give money to charity every month but we have never done anything like this before,' she said. 'There were friends and family who thought I was really crazy, but I just opened my home to him and said everything that is ours was his too.'
"The 37-year-old, who works with dementia sufferers, said she had invited Fraser back to stay with the family again over the Easter break, and that he was 'part of the family now.' "