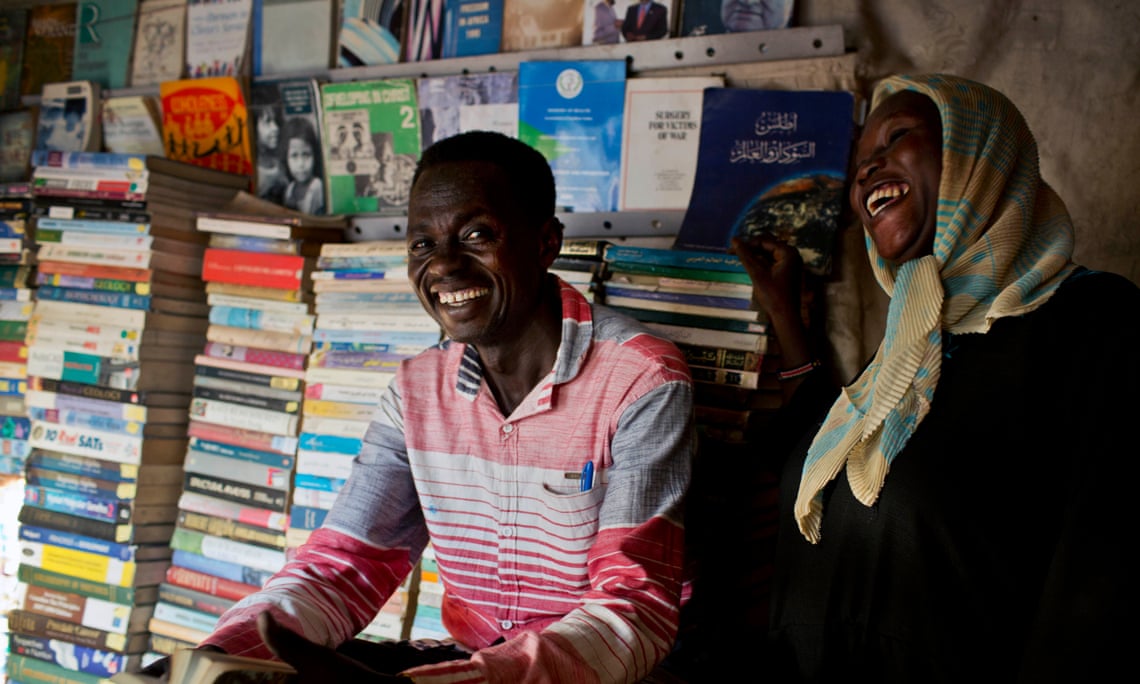 Photo: Kate Holt for the Guardian
Juma'a Ali, 34, centre, a Christian from the Nuba mountains in Sudan, who fled to Malakal in South Sudan. Here, he is pictured in his bookshop in Malakal's camp. 
Sometimes refugees take it upon themselves to improve life in the camps where they hope to live only temporarily. I have read in the past about adults who teach the children who are missing out on school. In fact, I once met a man who did that in a Nepalese camp in India. In this story, a refugee offers books.
Ben Quinn writes at the Guardian, "Juma'a Ali glances fondly at the ceiling-high stacks of titles in his makeshift bookshop, a collection that ranges from Virginia Woolf to Canadian Tax Law (1995 edition).
"Just over three years ago, carrying as many books as he could bring, he sought refuge in war-torn South Sudan following the persecution that he says he experienced as a Christian, across the border in Sudan's Nuba mountains.
"The books were gathered along the way in Sudan and South Sudan. Most are second-hand copies from libraries in South Sudan and donations from abroad. He wasn't a bookseller in his home country; he worked with his local church. …
"He sells the books at the camp for very small amounts of money, and is fiercely proud of his role as the bookseller of Malakal. His little shop stands as a source of education and distraction from the often unbearable conditions the camp's residents live with on a daily basis. …
"Among the most sought-after titles by the more than 33,000 residents of the camp are the Bible and the Oxford English Dictionary, although collections of love poems also find takers. 'Whenever there is conflict or war, people are reading books about politics and religion. When there is peace, there is also more love,' says Ali…
"Some day, he says, he wants to leave the camp, adding: 'Europe is a place I think about, but how to get there? It's locked up and is closed off to us. I want to be positive and I hope for peace here some day. The problem is how to bring people together after so much has happened.' "
Although this story was published as recently at January 4, even more recent news about impending famine in South Sudan has me fearful for Ali and those he serves with his books. I will try to find a follow-up story.