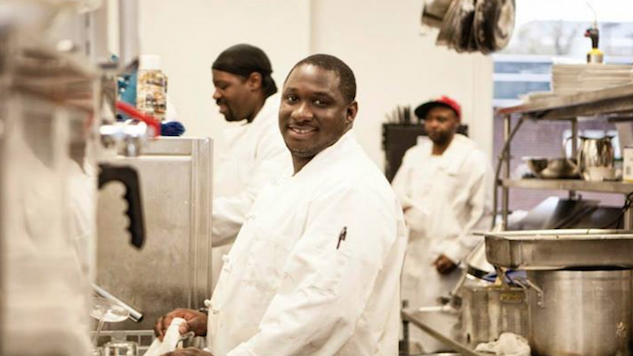 Photo: Edwins Restaurant
At my former magazine we focused on lower-income issues, which meant we sometimes published research on topics such as prison reform, the criminalization of addiction, and job programs for ex-offenders.
Recently, I saw an article that reminded me of those efforts. It's about an unusual fine-dining restaurant in Cleveland.
Jenn Hall covers the story at Paste, "Though the numbers vary by state, roughly three-quarters of ex-convicts are rearrested within five years, and more than half of those return behind bars. Ask Brandon Chrostowski about it, and he'll tell you that it's more than a problem. It's a civil-rights issue — and that's why he decided to do something about it.
"For diners at Edwins Restaurant in Cleveland Shaker Square, fine French cuisine is an initial draw. The setting is nouvelle-chic, befitting a Francophile menu that garners praise. Bar service is sophisticated, with a wine list that runs deep. But the reason to return goes beyond the plate. In almost every position, both front and back of house, ex-offenders are training to launch new careers.
"It's the only white-tablecloth restaurant of its kind in the U.S.
"The trainees are part of Edwins' six-month Restaurant and Leadership Training Program, of which Chrostowski is founder and CEO. (Edwins is a portmanteau of 'education' and 'wins.') Covering everything from mother sauces to white-tablecloth service, the program aims not just to equip ex-offenders with skills, but also to power them with the confidence to apply them.
"It's a program borne of careful planning. Chrostowski first had the idea in 2004, secured approval to operate as a 501 (c) (3) in 2008, and then spent six years perfecting the pedagogy before opening the restaurant's doors in 2013. Now, 20,000 diners visit Edwins each year.
"But job prep and a fine French meal is just one part of the story. Ultimately, Edwins is a support network for those determined to challenge statistics. So while participants indeed learn a perfect braise, they also get help with everything from reinstating their driver's license to securing medical care. It's a humanizing approach to a sobering problem, and perhaps that's why it's working. The Edwins-alumni recidivism rate stands at just 1.2 percent. …
"Asked what drives him, he says it's about paying forward a break he was given. Growing up in Detroit, Chrostowski had a legal run-in and was lucky to land probation instead of a prison sentence. That 'aha' moment primed him to take stock, find a mentor and launch a fine-dining career …
"Though he reads like an optimist (and is when it comes to a belief in transformation), Chrostowski sees himself as a pragmatist. Given the chance, he says, many ex-offenders have the capacity and strength to rebuild. They just need that all-critical chance."
To read Hall's interview with Chrostowski, click here.