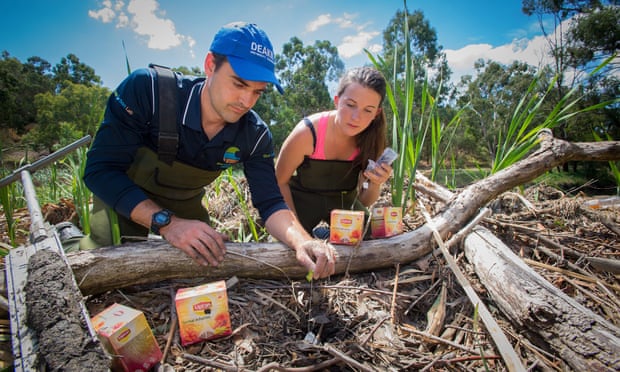 Photo: Simon Peter Fox 
Deakin University researchers bury the first of 50,000 teabags to be placed in wetlands around the globe as part of a project to monitor which wetlands do best at soaking up the carbon that causes global warming.
It's reassuring to know that people will keep doing whatever they can for the environment no matter what. The increased carbon dioxide that contributes to global warming will not go away by itself. One approach to breaking it down could come from preserving wetlands.
Melissa Davey writes at the Guardian about Australian scientists who are using Lipton green tea bags and red tea "rooibos" bags to study how wetlands capture carbon and make it harmless.
"Australian scientists have launched a project to bury tens of thousands of teabags in wetlands around the world. …
"Lipton green tea and red tea 'rooibos' varieties will be used in the project, which already involves more than 500 scientists in every continent except Antarctica.
"Leader of the project, Peter Macreadie from Deakin University's Blue Carbon Lab, said wetlands were important for carbon capture and storage, a process known as carbon sequestration, holding up to 50 times as much carbon by area as rainforests.
" 'But some wetlands are much better at carbon storage than others, and some are in fact carbon emitters, so they're not all fantastic,' Macreadie said.
" 'We need to find out the best wetland environments for carbon sequestration so we know where we should invest our energy.'
"That's where scientists have come up against barriers in the past. There are hundreds of thousands of wetlands around the world. A standardised technique for monitoring the carbon is needed for accurate comparison, and monitoring devices can cost thousands of dollars to install.
"But Macreadie had been reading scientific research about teabags being buried and used to measure the rate at which carbon was being released from soil into the atmosphere.
"Fast decay of the tea inside the bag meant more carbon was being released into the atmosphere, while slower decay meant the soil was holding the carbon.
" 'I thought, "Jeez this is a bloody good idea. Why aren't we using it in wetlands?" ' Macreadie said.
" 'People think of innovation as involving fancy new technology, but sometimes the best ideas are the most simple ones.' " More here.
I wonder if this property of tea relates to another thing I've noticed. Loose tea seems to absorb the aroma of whatever is around it. I've often thought that if you wanted to remove, say, a burned smell from upholstery or clothing, tea (not brewed) could do the trick.