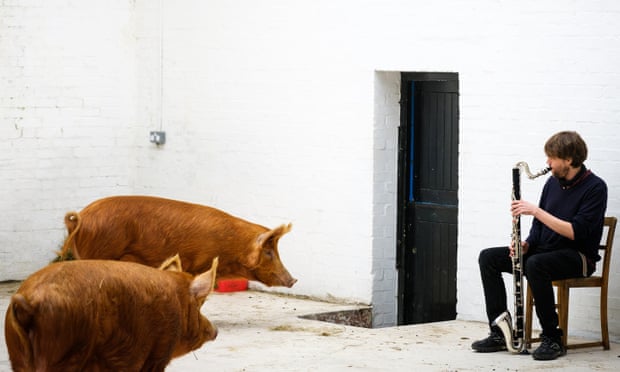 Photo: Ben Gilbert/Wellcome Collection
Art and science meet at performances for farm animals in England.
Today I have another of my offbeat stories for you. It's about performing for farm animals and checking their reactions.
Lyn Gardner writes at the Guardian, "Almost 10 years ago, David Harradine made a show in a basement for the Brighton festival. It was called An Infinite Line and featured a horse that stood entirely unconcerned throughout the performance, barely blinking at what went on around him. He was an impressively large presence, a symbolic representation of the natural world, and clearly didn't give a fig for the theatrical avant-garde."
Harradine was looking for more reaction from animals in March as his company, Fevered Sleep, conducted "an experiment in which human artists perform for sheep, pigs and goats at a location in Peckham. …
"The show [was] part of the Wellcome Collection's fascinating Making Nature exhibition, which aims to explore our relationship with the natural world and how we perceive animals. 'We are starting from the point of view that perception is knowledge,' says its curator, Honor Beddard, 'but when you have an encounter with an animal, how do you know that you are not projecting something on to it?' …
"For Harradine it's definitely 'the most bonkers project I've been involved in. But it's fascinating too. The performances are being used to start a conversation.'
"As Harradine says, we prefer not to see animals as being just like us: complex, sentient beings, with emotional responses. To that end, the animals chosen to experience Fevered Sleep's performance are all what Harradine, himself a vegan, describes as creatures that are mostly perceived as 'meals in waiting.' … 'The purpose is not to suggest that people shouldn't eat meat but to examine our relationship with animals – and the ethical and political responsibilities of humans towards them.' " More here.
Sounds like such fun to be part of a "bonkers" performance. I think we could all do with a little nutty creativity in our lives.