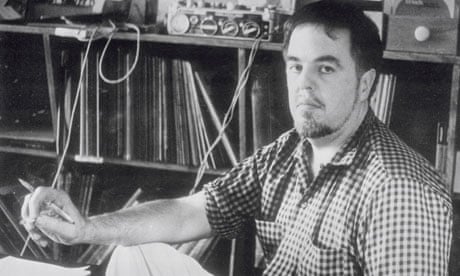 Photo: Bettmann/Corbis
Alan Lomax helped discover Lead Belly and Woody Guthrie. Now 17,000 of his field recordings are online.
Back in the day, folklorist Alan Lomax recorded music of the people — in Britain, Ireland, the US, the Caribbean, the former USSR, and more. Now you can hear 17,000 recordings online.
Sean Michaels wrote at the Guardian in February, "The Association for Cultural Equity is to begin streaming 17,000 tracks recorded by ethnomusicologist Alan Lomax …
"Lomax spent much of the 20th century collecting and promoting folk music. He founded the association in 1983, aiming to 'explore and preserve the world's expressive traditions.' …
"This month, Lomax's inheritors will unveil a website of his recordings, the Global Jukebox, allowing visitors to listen for free. While some of this music has been licensed for previous compilations, most is unheard. The association also plans to sell MP3s and CDs through the site.
" 'This project has evolved as the technology has evolved,' Lomax's daughter, Anna Lomax Wood, told the New York Times. In addition to sound recordings, she hopes to make available her father's footage of international dance styles, 'the biggest private collection of dance film anywhere, and from everywhere.' …
"[Lomax] introduced Pete Seeger to 'The Lion Sleeps Tonight,' recorded Vera Hall's 'Trouble So Hard' (made famous by Moby), and his recordings will even be featured on Bruce Springsteen's forthcoming album, Wrecking Ball." More at the Guardian, here.
These kinds of recordings are priceless. When music of ordinary people is lost, it is lost forever. I wish it were still possible to hear the original Hmong songs that Kao Kalia Yang describes in her breathtakingly beautiful The Song Poet: A Memoir of My Father. The way Yang's father moved his refugee audience with his songs of home, suffering, and hope is something I would have liked to experience.