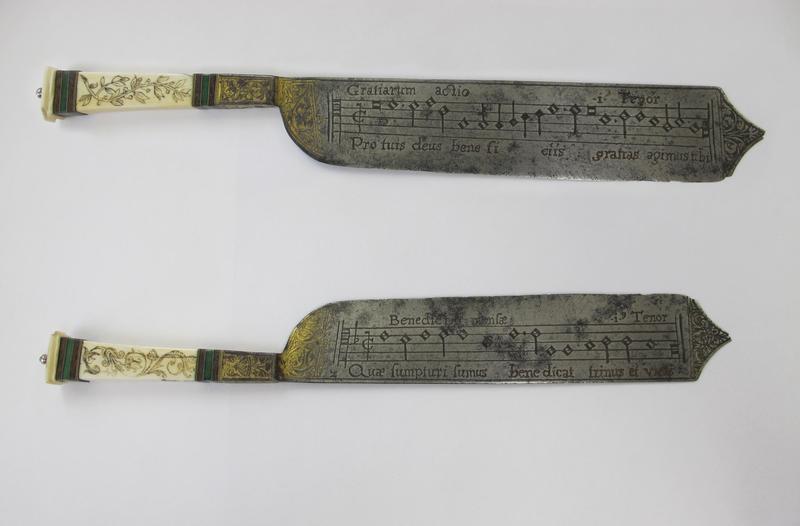 Photo: The Victoria and Albert Museum
A notation knife that has music carved into each side of the blade. Italy, c. 1550.

Reading music carved into dinner knives is an old concept but new to me. Eliza Grace Martin wrote about it at New York's classical radio station, WQXR.
"Have you ever had such a great dinner, that you just wanted to break into song — maybe even into three-part harmony, if you're feeling festive? Turns out there's cutlery for that.
"A Renaissance-era notation knife is exactly what it sounds like: it's got an ivory handle and an extra-wide steel blade with a musical score engraved on it. …
"What you're seeing in the picture above is two sides of the same blade. On one side there's a benediction to be sung at the beginning of the meal, and on the other, the grace, which ends the festivities. The benediction above reads: 'The blessing of the table. May the three-in-one bless that which we are about to eat.' And the grace: 'The saying of grace. We give thanks to you God for your generosity.' …
"What makes these rare banquet knives particularly unique and mysterious is their striking balance of decorative and utilitarian function. We know what they are — they're singing cutlery — but we have no idea how they were actually used.
"Kristen Kalber, a curator at the Victoria and Albert Museum (V&A), in London, lays out the theories behind these blades. The sharp, wide steel would have been ideal for cutting and serving meat, and the accentuated tip would have made for a perfect skewer. But, she points out, 'of course diners in very grand feasts didn't cut their own meat. They had squires to cut it for them. It was a specialized job with its own rules and its own, sort of … status. It was quite an important job.'
"So then, what? Would guests awkwardly brandish a knife while they sang across the table, and then hand it off to the help — only to take it back again, bloody at the end of the meal, to sing some more? The rituals of the Renaissance table remain a mystery."
The only sung grace I remember is one involving Johnny Appleseed, definitely post-Renaissance. Listen to the music of the blades here.