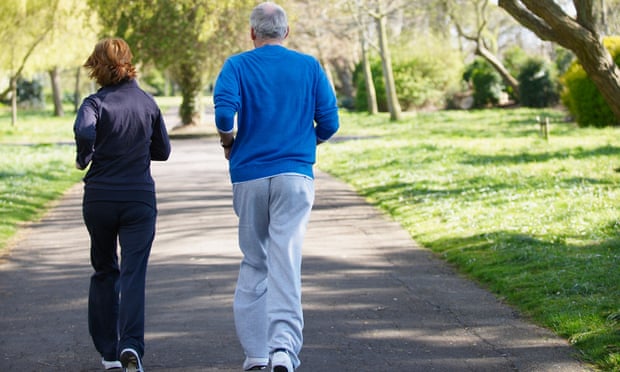 Photo: Alamy
Exercise and social activities could help to reduce the risk of developing dementia in later life, according to a new report.
Although there is no cure yet for dementia, lifestyle changes have the potential to reduce new cases by as much as one-third.
Nicola Davis writes at the Guardian about a recent report from the Lancet Commission on dementia prevention, intervention and care. The study suggests that many "dementia cases might be avoided by tackling aspects of lifestyle including education, exercise, blood pressure and hearing. …
" 'There are a lot of things that individuals can do, and there are a lot of things that public health and policy can do, to reduce the numbers of people developing dementia,' said Gill Livingston, professor of psychiatry of older people at University College London and a co-author of the report. …
" 'We expect it to be a long-term change that will be needed for exercise; joining a gym for two weeks is probably not going to do it,' she said.
"Clive Ballard, professor of age-related diseases at the University of Exeter medical school and also a co-author of the report, added that the evidence suggests individuals should also try to follow a Mediterranean diet, maintain a healthy weight and keep an eye on their blood pressure. …
"The results reveal that as many as 35% of dementia cases could, at least in theory, be prevented, with 9% linked to midlife hearing loss, 8% to leaving education before secondary school, 5% to smoking in later life and 4% to later life depression. Social isolation, later life diabetes, midlife high blood pressure, midlife obesity and lack of exercise in later life also contributed to potentially avoidable cases of dementia, the report notes. …
"They admit that the estimate that more than a third of dementia cases could be prevented is a best case scenario, with the figures based on a number of assumptions, including that each factor could be completely tackled. …
"Fiona Matthews, professor of epidemiology at Newcastle University who was not involved in the report, said that interventions for depression and social isolation could still prove valuable. 'If we could actually resolve some of that issue, even if it is not 100% causal, it is likely we might be able to slow [dementia] progression – even if [an individual] is on a pathway to developing dementia already,' she said.
"She added that the proposed areas for action could offer myriad health benefits beyond lowering dementia risk. …
"The authors pointed out that an intervention that delayed dementia onset and progression by even a year could decrease the number of people with dementia worldwide in 2050 by nine million."
More at the Guardian, here.