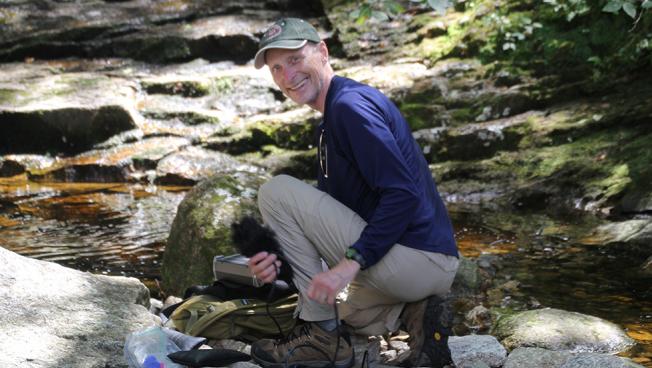 Photo: Ginny Fordham
Berklee professor Steve Wilkes gathers sound at the White Mountain National Forest in New Hampshire. A recent project also captures Cape Cod.
Berklee professor Steve Wilkes and his collaborator David Masher have created some amazing soundscapes that capture the music of the natural world. Their work is described at the Hear the Forest website:
"Hear The Forest is an effort to initiate the process of building an aural-map – essentially, an audio time capsule – of New Hampshire's White Mountain National Forest.  Supported by the National Forest Service and the Arts Alliance of Northern New Hampshire, this work will be performed by Berklee College of Music Professor, Steve Wilkes, as part of the 2017 Artist-in-residence program. …
"In addition to his field ecology and sound recording work, Wilkes will offer several public programs, including workshops that will provide residents and visitors with information on contributing to the ongoing sound file collection on the White Mountain National Forest. …
" 'I hope to be able to express and communicate to others this profound sense of inspiration – and to help everyone slow down a bit, and really listen,' " Wilkes says. More here.
You might also like hear an interesting interview with Wilkes that was broadcast at WGBH. The station provides this intro: "Nature is rich with dynamic sounds, like the roaring of waterfalls or the sweetness of birdsong.
"Berklee professor Steve Wilkes … captured the still whispers of buzzing bugs, the martian-like atmosphere at the summit of Mount Washington and the laughter of children enjoying the park — all essential sounds to create a 'digital aural map' of the forest, which he calls Hear The Forest. Callie Crossley speaks with Wilkes about his project." More here.
I like the idea of encouraging others to contribute their own nature recordings to the White Mountains project. It feels like something anyone could do if they just paid attention — and paying attention is the whole idea.