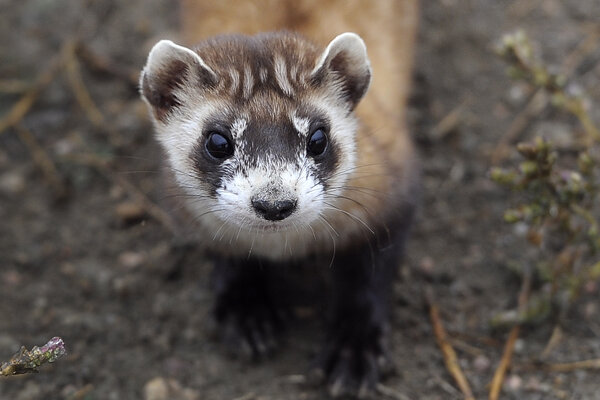 Photo: Kathryn Scott Osler/Denver Post via Getty Images
Black-footed ferrets are the most endangered mammal in North America. Scientists in Montana are trying to save the ferrets by saving their main food source, prairie dogs.
Never doubt the power of a research report written in elementary school. Maybe I would have become interested in conservation anyway (my mother headed up a local conservation group for years), but a report I wrote in 6th grade about the devastation to birds caused by fancy hats pre-WWI made me pay particular attention to birds. John, an environmentalist today, really got into the cause of endangered black-footed ferrets when he wrote a report on them in elementary school.
Although once-threatened birds like the snowy egret and the great egret have been saved, the black-footed ferret, alas, is still endangered. At National Public Radio, Nate Hegyi reports on how scientists are addressing the problem today.
"In central Montana, drones are dropping peanut butter pellets on prairie dog colonies. It's part of an effort by biologists to save North America's most endangered mammal — the black-footed ferret (or as the U.S. Fish and Wildlife Service calls it, the BFF).
"Prairie dogs make up the vast majority of a BFF's diet. Save the food and you save the ferret, biologists wager. …
"Kristy Bly, a senior biologist with the World Wildlife Fund, [said] there are only about 300 black-footed ferrets left in the wild, and they depend almost entirely on prairie dogs to survive. And protecting the prairie dog population is beneficial to species beyond the ferrets.
" 'Prairie dogs are Chicken McNuggets of the prairie, where so many species eat them,' Bly said.
"But in recent years, prairie dog towns across the American West have been exposed to a deadly disease called sylvatic plague. While it's treatable in humans, sylvatic plague can wipe out entire prairie dog towns in less than a month. And that means no more food for endangered black-footed ferrets.
"So Bly, [Fish and Wildlife biologist Randy Matchett] and a team of scientists and engineers have spent this year vaccinating prairie dogs in central Montana against the plague using drones.
"Drone pilots fly the machines across the prairie, dropping blueberry-sized pellets about every 30 feet. They are flavored to taste like peanut butter, and prairie dogs love peanut butter. The kicker is that they're laced with a live vaccine that protects them from the plague. …
"By the end of [one] day, they hope to expose more than 4,000 prairie dogs to the vaccine. Past field trials have shown that prairie dogs living in vaccinated areas survive waves of the plague.
" 'Without [the ferret], do we really have a complete ecosystem?' Bly asked. 'You start taking those pieces apart, it's like a domino effect. When we have ferrets on the landscape the piece of the puzzle that is the American prairie all fits.' " More here.
I like the idea of using drones this way. Makes me wonder if the technique could be adapted to handle the overabundance of deer in areas suffering from tick-borne disease. Couldn't a deer contraceptive in salt pellets be scattered by drones? Just asking.