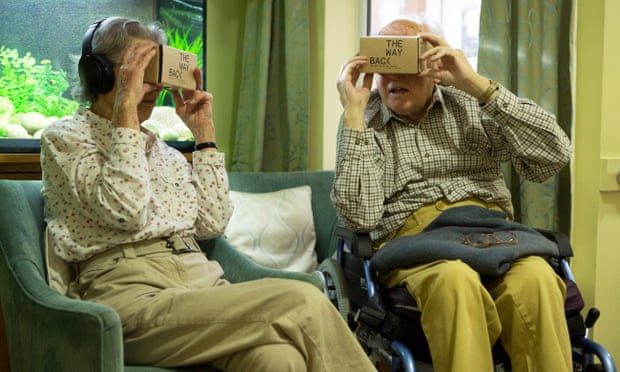 Photo: Richard Saker for the Guardian
"Oh, this is fun. I feel as if I'm at the party." Seniors fighting off dementia benefit from Wayback Virtual Reality.
I often think I overdid it in early 2000 repeating myself over and over to encourage an impaired relative to remember her childhood, but an article by Giulia Rhodes in the Guardian suggests that stirring up old memories can indeed be helpful to seniors with dementia.
"In a comfortable armchair, glass of sherry at her side," writes Rhodes, "Elspeth Ford is getting to grips with her 3D goggles. …
"Elspeth, 79, is a resident at Langham Court, a dementia care home in Surrey, and today she is trialling a virtual reality project, Wayback, that has been designed especially for those living with dementia. Peering into her headset, Elspeth is temporarily transported to 2 June 1953, and a street party for the Queen's coronation. She is enjoying a children's fancy-dress competition. 'I love that boy dressed as an Oxo cube,' she laughs.
"This is the first in what will become a series of virtual reality films set at historic moments, and available free for those with dementia, their families and carers to enjoy together through a mobile phone and a pair of inexpensive 3D goggles. The idea was developed by three advertising creatives with family experience of dementia.
"For Camilla Ford, Elspeth's daughter, it is an exciting concept. 'It gave Mum a huge amount of pleasure and really engaged her,' she says. … 'She was immersed in this and it took her back to a time of happy memories, when she was productive and emotionally fulfilled.'
"Elspeth has had vascular dementia for seven years, and finding a point of contact increasingly involves moving to where she is, rather than trying to bring her into the present, says Camilla. 'If she is in a place she can identify with, and we can see it too, we are somehow equalised. We are at a stage where we aren't trying to create memories but to relish positive emotions, dropping the expectation of who Mum was and just being with the person in front of us.'
"Elspeth sets off for lunch with her son Dominic, still smiling. It is unlikely, says Camilla, that her mother will remember what has made her feel happy. 'The point is that she feels uplifted, not necessarily that she knows why.'
"Dan Cole, one of Wayback's creators, agrees. 'If the film can open some memories, start a conversation or bring a smile, that's a success,' he says. The idea began to form after a drive around Camden, north London, with his father, then in the early stages of Alzheimer's. 'It was his old stomping ground and he kept recognising places and telling me little tales; the pub his dad drank in, where he hung about with his mates, even an alley where he once got into a scrap,' says Dan. 'In that fleeting moment it was so clear in his mind. I could ask questions. He could tell me things.' …
"The resulting film was made over two days in a north-London street (satellite dishes and other modern trappings digitally removed) with a volunteer cast and crew of 187 and painstakingly sourced period props, costumes and menu (fish-paste sandwiches, notes one Langham Court resident approvingly). …
"Langham Court's philosophy is based on the Butterfly Household model, devised by Dr David Sheard, a dementia specialist and CEO of Dementia Care Matters, who is supporting Wayback. 'People living with dementia become more feeling beings than thinking beings,' he says. 'Feelings endure and are more to be trusted when facts diminish.' "
More.