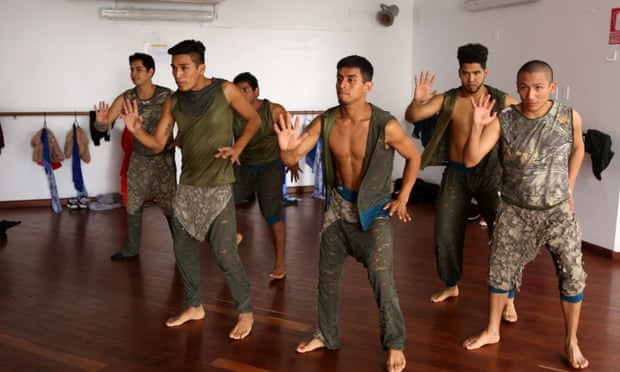 Photo: Jorge de la Quintana
A ballerina admired impoverished acrobats performing at Lima, Peru, traffic lights and decided to offer them a better opportunity. In the photo, members of her D1 Dance Company rehearse.

Once upon a time, a privileged young lady, a ballerina with an international reputation, saw the face of aspirational poverty on acrobats performing in traffic and decided to offer them an opportunity.
Dan Collyns writes at the Guardian, "Vania Masías vividly remembers the first time she saw acrobats somersaulting at a traffic light on a visit to her home city in 2004. She was at the peak of an illustrious career as a ballet dancer in Europe – but before long, she would leave it all behind it to nurture the raw talent she found in the streets of the Peruvian capital. …
"She was so inspired by the abilities of the teenage acrobats she encountered in Lima she set up a pilot project to teach them to dance – not ballet, but hip-hop. …
"It began on the self-taught gymnasts' home turf in Ventanilla, a tough neighbourhood near the city's port. Masías arranged to meet them on the shanty's sand dunes where they practised their flips. The response was overwhelming.
" 'I thought I was going to meet with three kids,' she said. 'When I arrived, there were more than a hundred kids.' …
"In 2005 Masías formed the D1 Cultural Association: part dance school, part non-profit organisation seeking to create young leaders and promote positive social change through the arts.
"D1's social arm, which is 85% self-sufficient thanks to the school's private classes, works with 7,000 children and young people in the capital and has schools in the Peruvian cities of Ica and Trujillo. More than 100,000 children have passed through the programme over the years, says Masías.
"Among them is Eddy Revilla, who at 13 became his family's breadwinner somersaulting at traffics lights in downtown Lima.
" 'I was earning 300 soles a week [£66/$92] and here in Peru – that's money! I could help my family and they started to thank me,' says Revilla, now 25.
"But after blacking out in mid-air doing a somersault, Revilla auditioned for D1, and is now a member of the group's professional dance company.
" 'When we started nobody thought that you could make a living from dance. Now it's an amazing opportunity for young people,' says Revilla, who also teaches hip-hop to paying students at D1's dance studio. …
"Masías acknowledges that only a few of the young students will eventually follow a career in dance, but she says that the act of dancing itself gives them the confidence to transform their circumstances. …
"Masías has encouraged her dancers to embrace their provincial roots through fusing traditional Peruvian and urban styles.
" 'It's in their blood, in their veins,' she says. Dancers who had been ashamed of their origins 'now fight to say where they come from,' she says."
More at the Guardian, here.