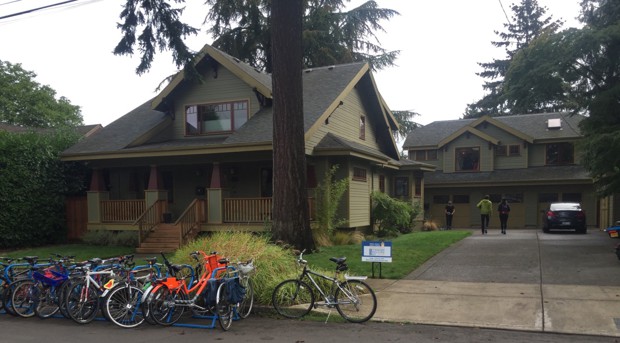 Photo: Kol Peterson
Los Angeles will pay homeowners who are willing to house pre-screened homeless families by creating "granny flats," like this accessory dwelling unit over a garage in Portland, Oregon.

I like stories on creative ways cities are trying to tackle homelessness. These initiatives may seem like a drop in the bucket, but some may actually work well over time and help alleviate the effects of our extreme inequality. You have to start somewhere. After all, the homeless population includes working families unable to make ends meet on their wages.
As Vanessa Romo wrote at National Public Radio last month, "In an attempt to alleviate the soaring homelessness problem in Los Angeles County, officials want to pay homeowners to house people by building new living units or bringing existing dwellings up to code if they are in violation.
"It's part of a $550,000 pilot program launched by the LA Community Development Commission to explore new ways to safely and at a relatively low cost, provide housing options for handful of the county's nearly 60,000 homeless residents.
"The county Board of Supervisors has narrowed down the pool of applicants from 500 to 27 and is in the final stages of selecting a group of six property owners who are ready and willing to start construction in the fall, according to the LA Times. The county is also leading a design competition for model secondary dwelling units.
"Officials will consider whether to expand the program after 18 months. …
" 'People are looking at what they can do to make our neighborhoods more affordable and help more Angelenos find stable places to live,' LA Mayor Eric Garcetti told the Times.
"Garcetti has been urging property owners to build secondary units, or 'granny flats' as they're often called, in their backyards for years. He estimated it could create 50,000 more units if only 10 percent of homeowners would take on the challenge. …
"The Times also reported 'the loan principal will be reduced each year the unit is occupied by a formerly homeless person and forgiven after 10 years, at which point the homeowners can do as they wish with the housing.' …
"Los Angeles is only the latest county trying to take on the nation's homelessness crisis by inducing property owners to provide affordable housing.
"Multnomah County in Oregon started a similar project last summer where four homeowners agreed to have a small unit built on their lot and pledged to provide housing for pre-screened homeless candidates for at least five years."
More.