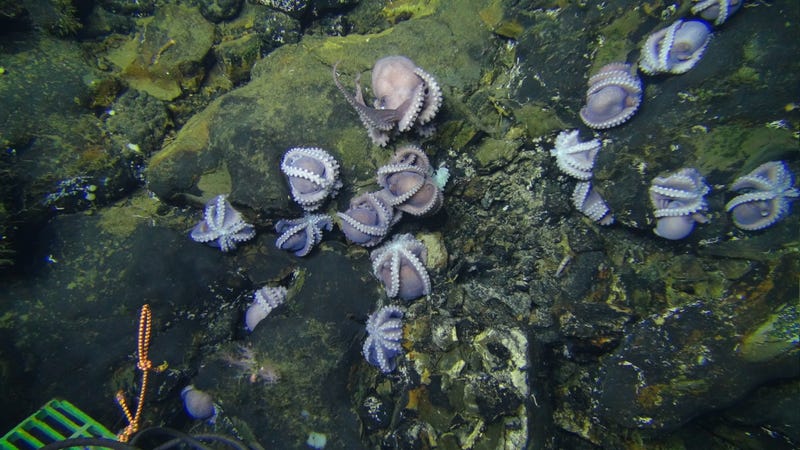 Photo: Phil Torres, Dr. Geoff Wheat
Seventeen octopods huddled on the Dorado Outcrop, two miles underwater near Costa Rica. Most are in a brooding (in the sense of baby-launching) posture.

Not sure where I picked up this octopus story, maybe from twitter. But who knows? Sometimes I learn facts about sea creatures from the Octonauts-loving grandchildren. (I'm grateful that cartoons these days have educational content. The cartoons I watched as a child were often no more than a bunch of mice running around and squeaking.)
Maddie Stone reports at Earther, "Scientists have made a truly bizarre discovery on an expanse of cooled lava 150 miles west of Costa Rica and nearly two miles underwater. There, they laid eyes on more than a hundred female octopuses, tending to eggs that didn't seem to be growing in water that seemed too warm for their liking.
"Deep sea octopuses are a rare sight, and it's even rarer to catch them in the act of brooding. So when Janet Voight, a deep sea biologist at the Field Museum of Natural History, examined footage collected at the Dorado Outcrop during a 2013-14 study of warm hydrothermal fluids seeping out of cracks in the rocks, it was nothing short of shocking to discover an enormous camp of tentacled, seemingly-expectant moms. …
"It's [puzzling], because deep sea octopuses tend to thrive in near freezing temperatures. Warm water speeds up their metabolism, causing them to use up too much oxygen. And indeed, when lead study author Anne Hartwell examined the octopods' breathing patterns in hundreds of hours of video footage collected by an ROV and a crewed underwater vehicle, she learned that those in or near hydrothermal fluids were breathing faster, suggesting oxygen stress.
"Moreover, none of the nearly 200 eggs the researchers examined appeared to be developing at all. …
"The researchers go on to speculate that females are drawn to the area because of the lack of sediment, which makes it easier to anchor their eggs, blissfully unaware of their new home's thermostat problem.
"As the authors explain, hydrothermal fluid discharges can ramp up quickly at any given site, and once a female chooses a place to brood, she's stuck with it — stressful environment or not. …
"Nicole Morgan, a deep sea biologist at Florida State University who also wasn't involved, told Earther in a Twitter DM that while the water is warm, it's 'not outside known ranges for the octopus genus.' The oxygen levels are also low but not lethal, she said, suggesting 'the authors are probably right that this is sub-par brooding habitat.'
" 'I think they have captured a snapshot of what evolution looks like in real life — they are brooding in an area that is stressful but available and not immediately lethal,' Morgan continued. 'More likely than not this subpopulation will die out because of the high egg fatality, but if some eggs do survive, that could be a start to speciation.' "
More here.