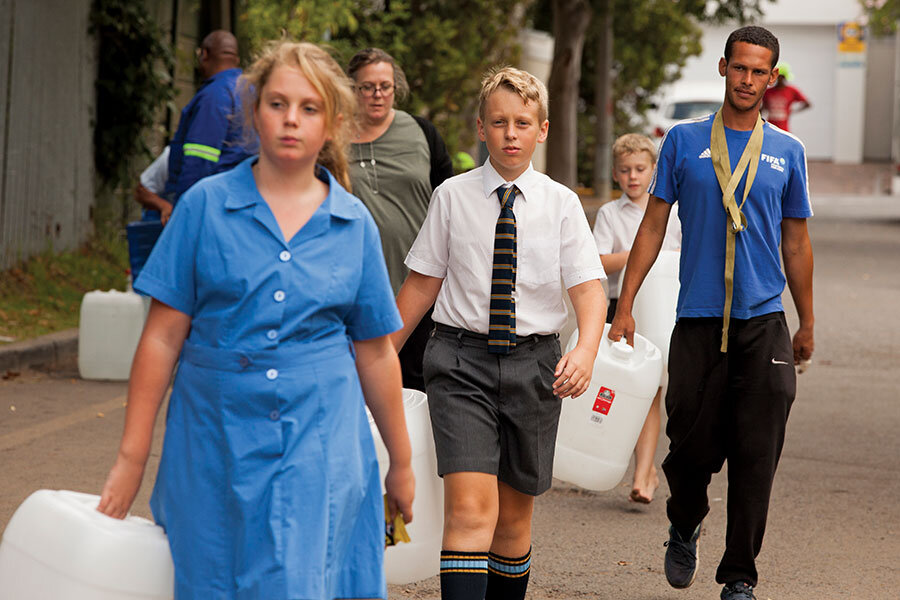 Photo: Melanie Stetson Freeman/Christian Science Monitor
People come with plastic bottles and jugs to collect free water in Cape Town, South Africa, where a dire shortage spurred residents to cut water usage in half.

You may have read about the dire water scarcity in Cape Town, South Africa, a situation resulting from lack of public funds to do the work that would have protected the supply.
But this story shows how much people can accomplish when faced with a life or death challenge.
Ryan Lenora Brown reports at the Christian Science Monitor, "A year ago, [Musa] Baba and [Helen] Moffett had almost nothing in common, and in many ways, they still live in two different universes. Moffett lives in a manicured gated community flanked by mountains. Baba's house is two tin rooms she built herself that grip the side of a hill cluttered with other small shacks.
"But these days, the two women, along with millions of others here, share a common preoccupation: how to save water. For Baba and many others, that's been a lifelong project of necessity. But for another population of Cape Town residents, including Moffett, it's part of a massive lifestyle pivot that has helped bring the city on the southwestern tip of South Africa back from the brink of the unthinkable.
"As recently as March, Cape Town's government was instructing residents to prepare for an imminent 'Day Zero,' when taps across most of the city would be shut off indefinitely. …
"Newspaper headlines across the world blared [Cape Town] was about to become the first developed city in the world to completely run out of water.
"But behind the scenes, a tectonic shift was under way. As the city bartered for water with local farmers and hustled to build desalination plants, its residents simply started using less water. A lot less.
"And it has worked – at least for now. … Using a combination of sticks and carrots to coax residents on board, the city has cut its water use by half. Its biggest customers now use 80 percent less. Today, every Capetonian is allowed just 13 gallons of municipal water per day – a little less than the amount it takes to flush a toilet four times. Use more, and the city reduces your pressure to a trickle, and your water bill can turn into a mortgage payment. …
"Here in Cape Town, suburban residents have become connoisseurs of taking 90-second showers and then flushing their toilets with the water they collected while doing it.
"On popular water-saving Facebook groups, city residents debate the best way to wash their dog 'off the grid' (bottled water, one woman suggests. Scrub him down with used bath water, offers another.) They swap the names of local companies that will sink a personal well in your backyard. Local police, meanwhile, receive a steady stream of tips from concerned residents who've seen their neighbors committing the ultimate middle-class drought crime: watering their lawns. …
"Says Kirsty Carden, an engineer at the University of Cape Town's Urban Water Management Research Unit, 'Yes, it's been a crisis, but it's also good to learn these lessons now. Cape Town isn't the only city in the world that's going to need them for the future.' …
"Water restrictions have had another, less obvious effect: They have given the rich a small but rare experience of how the poor have always gotten by.
" 'It's humbling, learning to think about water the way most South Africans have been doing for a long time,' Moffett says, arranging two gallon jugs of water from another local spring in the trunk of her car. 'Every household chore takes three times as much thought, and three times as long.' …
" 'We have always lived like this – nothing has changed because of the drought,' says Baba, sloshing a T-shirt in a sudsy bucket outside her house. 'If now rich people can understand better what that's like, I think that's a good thing.' "
More at the Christian Science Monitor, here.