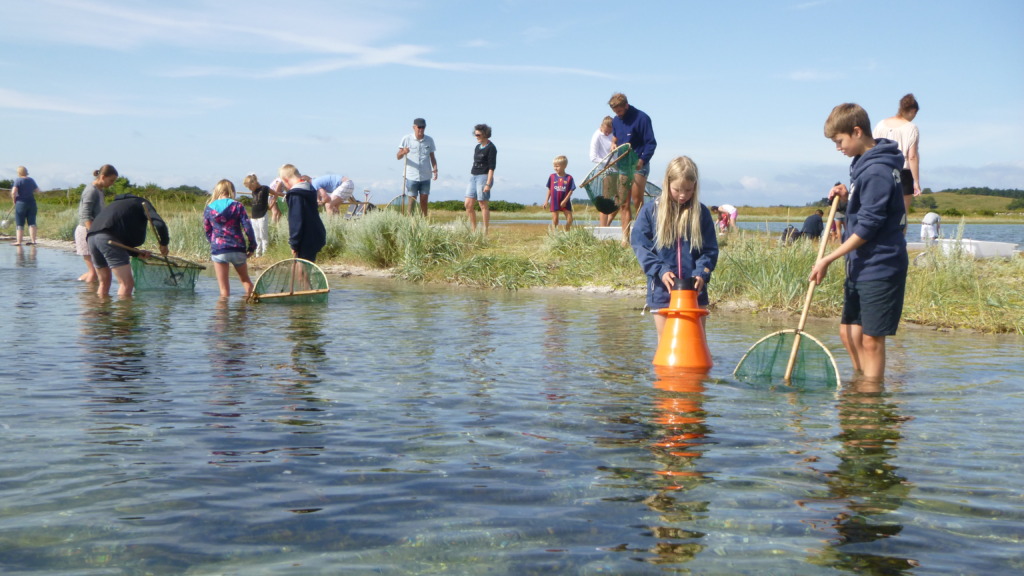 Erik's Swedish/Danish niece and nephews live in Copenhagen and went back to school quite a long time ago. The youngest went first, taking his seat in a classroom full of Covid-19 protections. Meanwhile, in other parts of Denmark, outdoor learning is getting increased attention.
Rick Noack writes at the Washington Post, "On a balmy Monday afternoon earlier this month, Sebastian Lukas, 27, watched from across a clearing as his third- and fourth-grade students whittled branches into spearheads with sharp knives.
"His gaze turned to another group, who were supposed to be working on math problems. Two students, perched on a log, scrambled to produce their textbooks, just in time to look busy.
"Lukas began the year teaching in a classroom like any other, in Samso Frie Skole, a school on the Danish island of Samso. But when the novel coronavirus pandemic struck, the school, like many across the country, embraced a new way to hold certain classes: almost entirely outdoors.
"Instead of sitting at desks, Lukas's students wander through a rambling woodland, lush with trees and crisscrossed by dirt tracks. …
"Some countries, including Germany, have a tradition of outdoor preschools and kindergartens, which have begun to catch on in the United States as well. The pandemic may drive more countries to experiment with the model for older students. …
"Samso, a sparsely populated, energy self-sufficient and carbon-neutral 44-square-mile island that was once a meeting point for Vikings, is a windy, hour-long trip by ferry from the mainland village of Hou.
"The Samso Frie Skole — a private school funded, like many others in Denmark, in large part through public grants — first pondered the move outdoors long before the pandemic. Coronavirus accelerated those plans.
"The new, forested area, surrounded by grain fields, includes old farmhouses, where students will be able to take shelter in bad weather, according to principal Anna Mattsson.
" 'It's going to be a combination of indoors and outdoors,' she said. The aim is to have students learn outside several times a week, with fluctuations based on weather.
"No one at the school said they were worried about the impending winter.
" 'We're used to it,' said Rikke Ulk, the chair of the school's support association. 'It's a matter of dressing well.'
"Until the new buildings are ready, students must walk or bike more than a mile from their old classrooms to their new forest school. Teachers haul some of the younger children in carts affixed to bicycles.
"Milling about before one such shuttle ride on a September morning, Noa, 11, said she liked the new school setup. It's 'just so beautiful — it makes me happy,' she said. …
"Some said they preferred certain aspects of learning inside. 'Sometimes, it's better just being in the classroom, so we can focus,' said Sally, 12.
"Cian, 9, an aspiring cook or robot engineer, disagreed. 'It's better to be here,' he said, holding his math book. 'It's cozier.'
"Lukas said outdoor class works better for some students than others. 'But some kids who have a hard time sitting love to come out here,' he said, and some students who struggled to focus on math indoors have shown aptitude outside. …
"One of the most commonly accepted Danish arguments in favor of outdoor schooling centers on health benefits, said Mads Bolling, a researcher at the Steno Diabetes Center Copenhagen. Students are able to avoid the adverse affects of sitting still all day.
"But he cautioned that potential disadvantages are not yet fully understood, and some research suggests outdoor schooling appears to provide the most for children who are already highly motivated. …
"Even if outdoor class may not be practical for all schools or in all climates, said Bolling, it is not an all-or-nothing proposition. Samso Frie Skole plans to be flexible about which classes meet outside and which do not." More here.