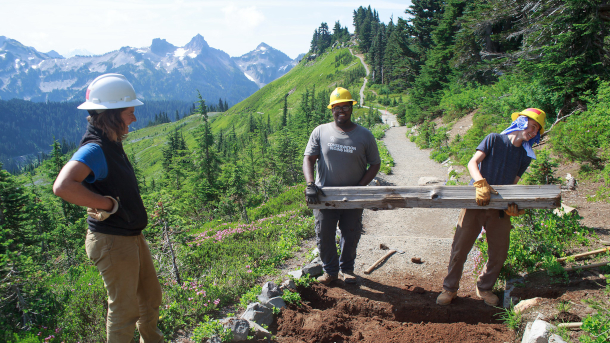 I love the way the radio show Living on Earth zeroes right in on whatever environmental issue is most important at any given time. In this episode, it discusses federal plans to tap civilians concerned about climate change — kind of the way FDR tapped civilian energy during the New Deal.
Host Steve Curwood talks to Washington Governor Jay Inslee about how a climate corps could aid conservation, combat climate disaster, and help save energy.
"CURWOOD: The modern CCC harkens back to the Civilian Conservation Corps created by President Franklin Delano Roosevelt in the 1930s. FDR's CCC put some 3 million men to work in conservation efforts. … Today a Civilian Climate Corps could put people to work reducing the risk of forest fires, restoring wetlands, planting trees, and weatherizing homes both in the United States and abroad. During the Democratic primary, several of President Biden's opponents also proposed a climate corps. Among them was Washington state Governor Jay Inslee. … Welcome back to Living on Earth, Governor!
"Let's say that you were to take a look at your own state of Washington for some examples of the kind of work that the CCC would do. You've had horrendous wildfires, so I imagine you're very interested in thinning the forests, the fuel that can add to those. Where else might it be especially useful?
"GOV. JAY INSLEE: Everywhere. This is a ubiquitous opportunity, because anywhere there's a house, there is an opportunity to reduce energy wastage. And that's the first place you get clean fuel, the very cheapest, first, most productive fuel, clean energy … stop wasting it. So helping people rehab their houses, get more insulation into their homes, starting with those who are in low-income homes, who frequently are living in places that just waste humongous amounts of energy, so these poor folks are trying to make huge energy payments to the utility company. … Then a part that I think hopefully is more focused on vocational skill development … to really focus on a long-term career, not just in the climate corps. That might be as exotic as, you know, learning how to maintain electric vehicles, because that's we're going to be driving. …
"CURWOOD: Many young people I speak to are desperate to do something to deal with the climate emergency, which they see as this humongous freight train barreling at them out of the future, and no way to jump out of the way. …
"INSLEE: I hear this as well, how do I plug in? What do I do? Where do I go, you know, what, you know? And this is just perfect to capture that huge energy that's out there. [We] want that energy to be released. And I think this climate corps is a way to do that. It will help as well build, you know, public support, political support. …
"CURWOOD: The original Civilian Conservation Corps under FDR reinforced some social injustices, and even segregated black and white corps members into different camps, and there weren't a whole lot of women that were involved in this. How can this new CCC help progress towards greater equity in our society?
"INSLEE: You've put your finger on a very important point. One is the most obvious one, which is economically to give people more economic opportunities. And I'm convinced it will do that big time. [Also] we have so many children, urban children particularly, who've never had experiences in the natural world. And giving them these experiences in a vocational setting is life changing for people. …
"My dad and mom used to re-vegetate alpine meadows on the slopes of Mount Rainier during the summer. They ran a group called the Student Conservation Association. [They] were kids, mostly from the East Coast, who came out to Mount Rainier National Park. [Once] they got that shovel in their hands, and once they spent a night in the tent, they were conservationists for their whole lives."
More here.