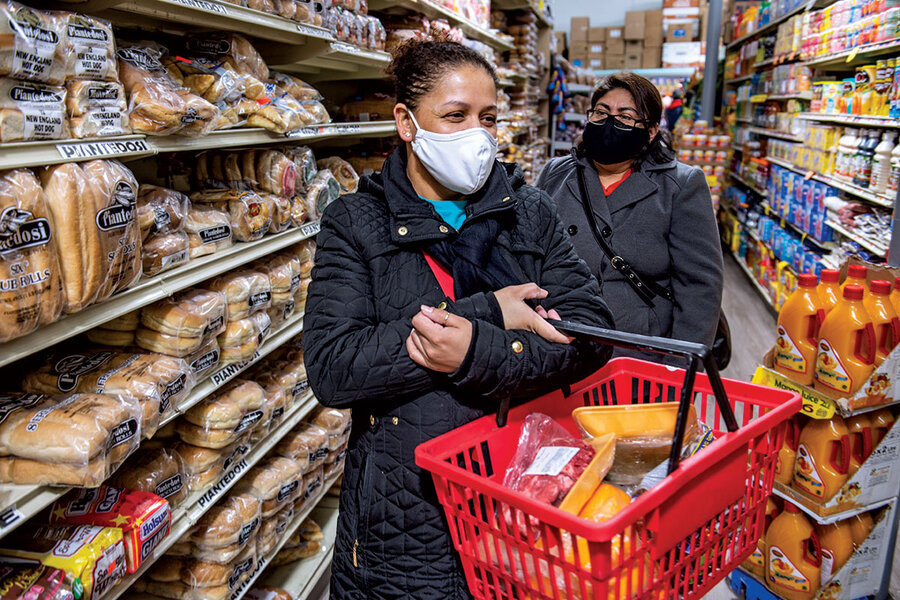 How many years have we kicked around the idea of a guaranteed income to eliminate poverty? If you search at this blog on the topic, you will see several forms the concept has taken in the past. And since COVID-19 became part of our lives, the feeling of urgency around Universal Basic Income (UBI) has grown.
At the Christian Science Monitor, Simon Montlake as a report on Chelsea, Massachusetts.
"Inside the hillside church where she works part time as custodian, Ana Vanegas-Rivera rests on a wooden bench and pulls out her phone wallet. She holds up a blue debit card, similar to the others in her wallet, minus her name or any issuing bank.
"The card belongs to Chelsea, a blue-collar city outside Boston that is using it to give cash to around 2,000 low-income residents during a pandemic that has disproportionately hit its Latino-majority population. Every month the card is reloaded with between $200 and $400, depending on family size, allowing recipients to spend the money as they see fit.
"Ms. Vanegas-Rivera's $400 goes toward buying food, household items, school supplies, and shoes for Dylan, her third grade son. For now, the family is getting by on her modest custodian salary and disability checks, along with what her husband earns from sporadic construction jobs, so every extra dollar counts.
" 'It has been a big help. I'm very happy that we have this opportunity,' she says.
"The pilot income program, which began in November and runs until May, has been underwritten by federal and state COVID-19 relief dollars, as well as private donations, and is geared to feeding families, as its name, Chelsea Eats, suggests. 'Our overriding goal is to get people through the spring,' says Tom Ambrosino, the city manager. 'For some of our families that is the only money they have.'
"Chelsea is also a national testbed for a simple idea: to help people by giving them money. Not a housing voucher, not food stamps, but a cash-equivalent payment that ensures recipients have a basic income that they can spend any way they want. The rationale is that people know best what they need, and letting them make decisions on how to use the money, without restrictions, is direct and empowering, and doesn't require a big bureaucracy to implement.
"Chelsea is one of several U.S. cities experimenting with unconditional cash transfers to help some residents quickly – an idea that could become the basis for an alternative to traditional welfare and other safety net programs that have existed for decades. Indeed, advocates see these cash experiments as a building block toward a federal guarantee of a basic income for all, or at least all who manifestly need it.
"The idea of a universal basic income that would fill in some of the crevasses in capitalist economies isn't new. … But UBI has always been a provocative notion that seemed just a little too provocative, an unfathomable expense – free money for all – that nobody would want to pay. That was before the pandemic.
Once economies started closing down, governments around the world began to dig deep and spend freely, putting cash directly in people's hands. …
"Most U.S. social assistance is modest and conditioned on certain requirements, such as work and family size. Except for older adults or people with disabilities, it rarely arrives in the form of cash. This reflects an ethos of self-reliance, as well as decades of conservative criticism that welfare is wasteful and breeds dependence. Backers of basic income believe these traditional assistance programs no longer work.
"Yet the politics of governments handing out cash remains complicated. Many liberals like UBI but some don't. Many conservatives don't like UBI but some do.
"For now, momentum is building for at least some form of basic income in the face of a lopsided economy that seems to generate more losers than winners, even before the pandemic. But the question is: How far will the idea go? …
"In Chelsea, Mr. Ambrosino doesn't really focus much on whether the idea of a basic income is gaining ascendancy in Washington or not. His priority is simply to help families in a tough spot, and he's happy with what he's seeing so far with Chelsea Eats. 'We're getting money in the right hands,' he says.
"Roseann Bongiovanni, a former city councilor and now executive director of GreenRoots, a local nonprofit, agrees that the extra money is helping families. But Chelsea faces challenges of housing affordability and environmental justice, and overall demand at food pantries hasn't gone away. 'This is a short-term fix,' she says. 'It's not resolving a larger structural issue.'
"Ms. Vanegas-Rivera knows that her debit card is temporary. Though she owes less on her credit cards and is managing better, her money problems haven't gone away. What has changed, she says, is that she and her husband are no longer lining up daily at food pantries."
More here.