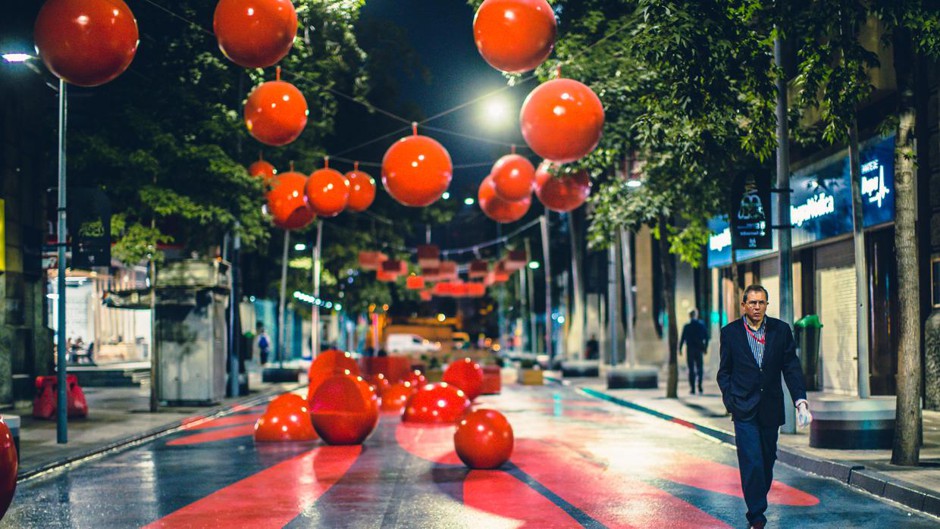 Photo: blvckimvges
Santiago, Chili, turned a congested area into a walkable, artistic delight for $550,000 raised from sponsors. But will the pilot program last?

Where there's a will, there's a way. In the congested capital of Chile, people who value walkable cities took matters into their own hands to pilot a livability initiative. The only question now: will it last?
As Martín Echenique reported at CityLab, "It was all done in record time. In just 30 days, more than 120 people — led by 32-year-old Chilean visual artist Dasic Fernández — transformed one of the most congested and iconic streets in the center of the Chilean capital.
"Today, Bandera Street, next to the government palace and the city's main square, is a colorful promenade, thanks to an urban intervention that's unprecedented in Latin America. …
"Fernández, who lives in New York City, joined forces with architect Juan Carlos López, and in three days they developed a proposal to sway the mayor: The idea was to transform Bandera into an example of tactical urbanism that fused art and architecture, and that would set a precedent for how both disciplines can successfully intervene in urban spaces. …
" 'The idea was to pedestrianize the street, to put a little green area, some color and furniture. There was nothing like an elaborate request from the municipality,' said Fernández. …
"The Municipality of Santiago did not have to take any money out of its pocket. The entire project was financed, basically, through payments made by various brands to make their logos visible on the Paseo, where tens of thousands walk through each day. … According to the artist, the total cost of the project did not exceed $550,000. …
" 'We made a team of 20 local and Latin American muralists, who painted each block in eight or 10 hours. There was a whole coordination. It was a true visual choreography,' said Fernández. …
"At the end of this year, the Chilean capital will have to make a decision: either reopen the Paseo to cars and public transport, or keep it pedestrianized, permanently. …
"The decision is not in the hands of the municipality, but with the Chilean Ministry of Transport, which has already indicated that the street must be reopened to public transport. However, the mayor of Santiago, Felipe Alessandri, is advocating for Bandera to remain an exclusively pedestrian route and cultural space. …
"Although Fernández says that he is accustomed to his work being temporary or reversible, he hopes that the Paseo Bandera can remain as a pedestrian street, not only because it sets a precedent in the region, but because he believes such spaces create a sense of citizenship."
Read about the ancient and modern themes of the mural and also about previous Santiago design innovations at CityLab, here.