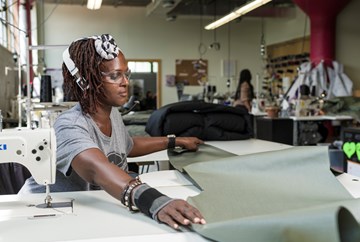 Photo: The Empowerment Plan
Many people experiencing homelessness would like a job even more than a coat warm enough to sleep in outside.
A student's idea to help people experiencing homelessness got a whole lot better after a homeless woman offered advice.
Kimberly Wong writes at Streetwise magazine, "Some students might believe that school projects are only good for a grade, but Empowerment Plan founder and CEO Veronika Scott knew that they could be something more. Scott was a student at The College for Creative Studies in Detroit when her professor assigned her class a project to fill a real need in the community. Noticing the homelessness that pervaded the city, Scott, who was only 20 years old at the time, began to visit a homeless shelter to try to figure out how she could help people who were homeless. …
"Scott visited the homeless shelter three times a week for five months. Hearing the ideas of the people living in the shelter showed her what she needed to do — she had to make a coat. She learned to sew from her mother, and even after the project was over, she continued to work on this coat that she hoped would change the lives of as many of the homeless as possible.
"The water-resistant coat she was designing would be able to be transformed into a sleeping bag at night or into an over-the-shoulder bag on warmer days. As Scott was in the process of perfecting the design for her coat, she was approached by a homeless woman who told her emphatically that what she really needed wasn't a coat, but a job.
"Taking this feedback to heart, Scott partnered with a shelter and hired two homeless women to start making coats that would come to be known as EMPWR coats.
"Scott paid the women to learn industrial sewing and manufacturing and brought local designers on to the project. Just like that, the Empowerment Plan was born. …
"The Empowerment Plan has been running for almost seven years and has 35 employees. All of the employees were hired while homeless and have since secured permanent housing with their families.
"Jessica West, a seamstress team leader at the Empowerment Plan, is just one example of the way the Empowerment Plan has changed lives. West was sleeping in her car with her children before they moved into a homeless shelter. She discovered the Empowerment Plan while living in the shelter and has been working with them for two years. She and her children currently live in a comfortable home fully furnished by non-profit organization Humble Design, … one of the many organizations the Empowerment Plan works with to improve the lives of their employees. …
"Usually, Empowerment Plan employees work at the organization from one to three years, but this is by no means a set timeline. Above all, the Empowerment Plan is focused on the individual growth of its employees.
"The employees at the Empowerment Plan are paid through the sponsorship of EMPWR coats — and since the coats also go toward helping the homeless community, it's a win-win situation. Sponsoring an EMPWR coat costs $100, which covers the cost of materials, the seamstresses' wages, and overhead. EMPWR coats are mainly sponsored by individuals, corporations, and non-profit organizations. The Red Cross has even sponsored EMPWR coats for disaster relief. …
"While the organization currently relies on donations, it is working to become self-sustaining [with] a new retail line of coats with functions similar to the EMPWR coat but with its own style."
Hat tip: Spare Change News, Boston's street newspaper.