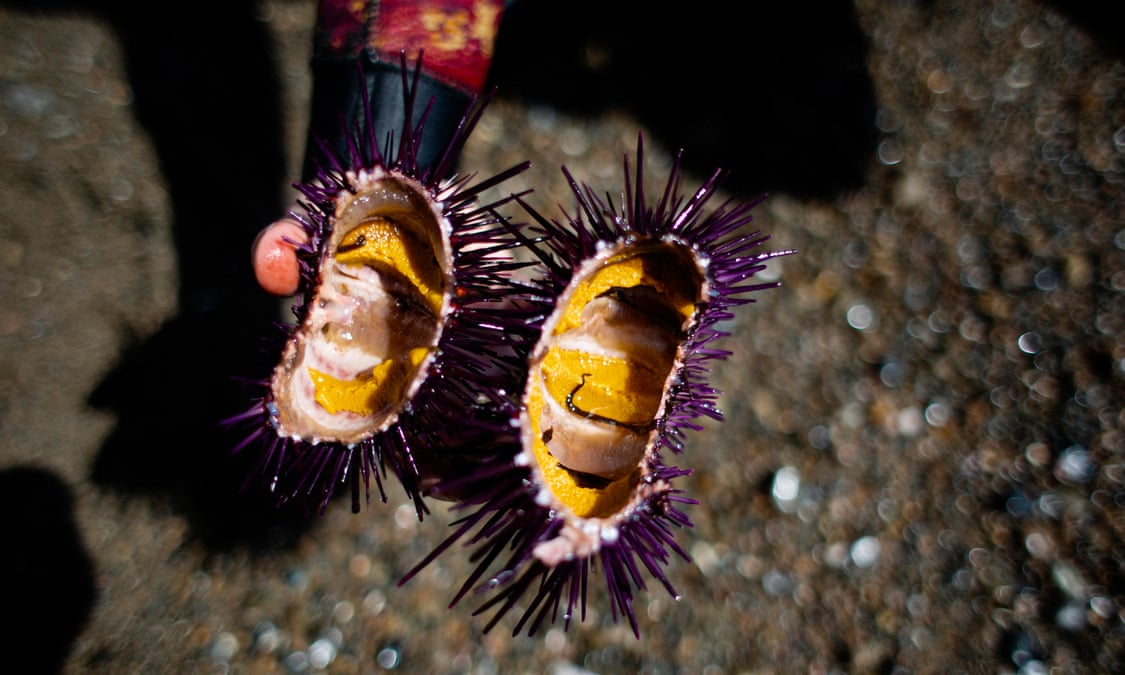 In her graphic memoir of her childhood in 1970s China, Na Liu recalls a time that comrades were told to kill sparrows because they were eating crops. The leaders went too far because in eliminating the birds, they let insects take over, and famine followed.
In today's story, the public is asked to eat the invasive purple sea urchins that are damaging California's kelp forests. If we are wise, we'll learn from others' experience and stop before we have eaten them all. Right now, that's a long time ahead.
Vivian Ho writes at the Guardian that purple sea urchins "have become a major headache for the Pacific west coast. Their population has exploded by 10,000% since 2014, with scientists blaming the decline of sea otter and starfish populations – two of the urchin's natural predators.
"Hundreds of millions of purple sea urchins now blanket the coast from Baja to Alaska, where they have been devouring the region's vital kelp forests, doing untold damage to the marine ecosystem in the process.In California, it is estimated that 95% of the kelp forests, which serve as both shelter and food to a wide range of marine life, has been decimated and replaced by so-called 'urchin barrens' – vast carpets of spiked purple orbs along the ocean floor.
"That's why marine biologists and chefs have teamed up to release a new predator into their natural environment: me. Or, to be exact, me and all of you. There's been a push for years to get the public to eat more sea urchin as a way to help curb the population and recover the kelp forests.
"It shouldn't have been a hard sell. Sea urchin, or uni in the sushi world, is considered a delicacy in the fine dining circles. 'The two main descriptors I would use are sweet and briny, similar to an oyster, similar to a clam,' said culinary scientist Ali Bouzari. … 'The texture is very creamy. It's very similar to room-temperature butter.'
"During the pandemic, however, fine dining has been harder to come by. And the retail costs, which range from $9 to $12 per urchin at your local fishmonger, isn't something every home cook can justify.
"But what Bouzari, co-founder of culinary research and development company Pilot R&D, has been pushing for the last few years is that sea urchin cuisine doesn't have to be particularly precious or expensive. You can have it served on a half shell, topped with espresso-cream whipped potatoes and caviar – as they do at Michelin-star restaurant SingleThread in Healdsburg – or you can sauté it with some onion, sausage and day-old rice and make a dirty rice, one of Bouzari's favorite recipes. And anyone with access to the coast can have sea urchin dirty rice on a dirty rice budget. …
"[One day] I stood on the beach of Timber Cove in Jenner, California, waiting as Bouzari and his friend Justin Ang, a Pilot R&D product manager, paddled up to shore atop some surfboards. They had spent the morning spearfishing. … But you don't need a wetsuit or fancy gear to harvest sea urchin, he explained. Anytime at low tide on the edges of a cove, urchin – an intertidal species – should become visible. …
"Sea urchins are essentially a ball of hard purple spikes containing five egg sacs, which is what we eat – in the culinary world, they're described as the tongues, the roe, the uni. …
"The sea urchin came loose when I twisted it like a doorknob. The triumph of my first harvest overtook any lingering sensations of pain from gripping its prickly spines. Still, I'd recommend gloves.
"I had brought some salted sourdough toast from San Francisco, and Bouzari quickly scooped a fat, golden tongue out of the hardened purple spikes to lay on to the olive-oiled surface. I had enjoyed uni before at sushi restaurants, but never tasted anything quite like the briny creaminess of sea urchin fresh from the ocean, on toast warmed in the California sun. That one bite felt like a calm summer day, floating on a boat in the water. …
"Bouzari showed me a move where he cut the urchin in half elegantly so that you could use the shell as a bowl or a candle holder after removing the roe. I had not mastered that. Instead, I cut the urchin jagged down the middle, at times just using my hands to rip it apart, sending spines flying on to the floor and into my sink."
Read more at the Guardian, here, about helping the environment by eating this delicacy.