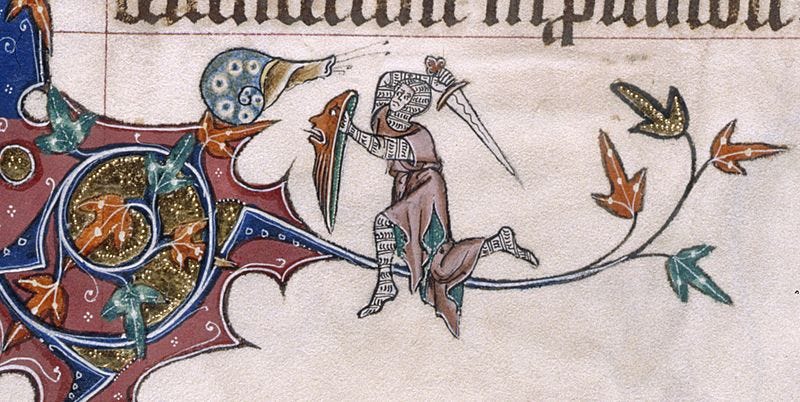 On twitter a while ago, Liz Devlin (@FLUXboston) highlighted a Vox video presenting an explanation of why snails appear in the margins of many medieval illuminated texts.
Vox reports that a Germanic people called Lombards, who had invaded Italy, were roundly scorned in the 1200s. Over time they became less warrior-like and more usurious. That is, they were money lenders, which gave them another kind of power. The theory is that the snail represents both the the hated Lombards' lack of fighting ability and their power.
A group of librarians in the UK also looked into the research. They report as follows: "There has been much scholarly debate about the significance of these depictions of snail combat. As early as 1850, the magnificently-named bibliophile the Comte de Bastard theorised that a particular marginal image of a snail was intended to represent the Resurrection, since he discovered it in two manuscripts close to miniatures of the Raising of Lazarus.
"In her famous survey of the subject, Lilian Randall proposed that the snail was a symbol of the Lombards, a group vilified in the early middle ages for treasonous behaviour, the sin of usury, and 'non-chivalrous comportment in general.'
"This interpretation accounts for why the snail is so frequently seen antagonising a knight in armour, but does not explain why the knight is often depicted on the losing end of this battle, or why this particular image became so popular in the margins of non-historical texts such as Psalters or Books of Hours.
"Other scholars have variously described the 'knight v snail' motif as a representation of the struggles of the poor against an oppressive aristocracy, a straightforward statement of the snail's troublesome reputation as a garden pest, a commentary on social climbers, or even as a saucy symbol of female sexuality. It is possible that these images could have meant all these things and more at one time or another; it is important to remember, as Michael Camille, who devoted a number of pages to this subject, once wrote: 'marginal imagery lacks the iconographic stability of a religious narrative or icon.' "
Read more at the British Library website, here. Lilian M.C. Randall's study "The Snail in Gothic Marginal Warfare" can be found here, at the University of Chicago Press journals site. Watch the video, too. It's quite fun.