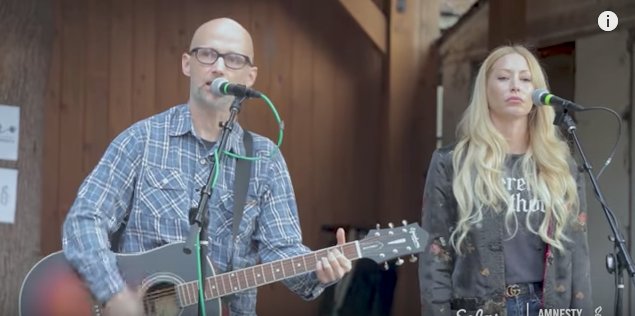 On September 20, Moby took part in #giveahome 2017 – a day of secret shows in homes around the world in solidarity with refugees. It was organized by Amnesty International and Sofar Sounds. Watch here, http://on.moby.com/2gUdSuL.
Many artistic people are sensitive to the struggles of the disenfranchised. That's why as many as 1,000 musicians answered a call from Amnesty International to contribute their talents in support of refugees this past September.
Writes Amnesty, "Across more than 200 cities in 60 countries, musicians, artists, activists and local communities came together in a statement of support for the world's refugees.
"Give a Home, a collaboration between Amnesty International and Sofar Sounds, saw living rooms across the globe play host to more than 300 special performances from some of the world's leading musicians. …
"From the thousands of Rohingya currently fleeing Myanmar, to the desperate situation faced by those escaping conflicts in Syria and South Sudan, the world is in the grip of its worst refugee crisis since the Second World War. The global refugee population now stands at more than 22 million people.
" 'As the Secretary General I travel a lot and meet a lot of different people. But one person I have never met is a refugee who wanted to be a refugee. By definition, a refugee is a person fleeing a desperate situation of conflict or persecution. They are some of the most vulnerable people in the world,' said Salil Shetty, Amnesty International's Secretary General. …
"Of those 22.5 million, almost all are hosted outside the wealthiest nations, with just ten of the world's 193 countries hosting more than half its refugees.
" 'While it's a huge number, refugees represent only 0.3% of the world's population. When we look at it that way, it seems crazy to me that we can't find a home for all of them,' said Salil Shetty. …
"Amnesty International's research shows that four in five people around the world are open to welcoming refugees, while a recent attitudes survey by the World Economic Forum show that a huge 85% of young people in the US would welcome refugees." More at Amnesty, here.