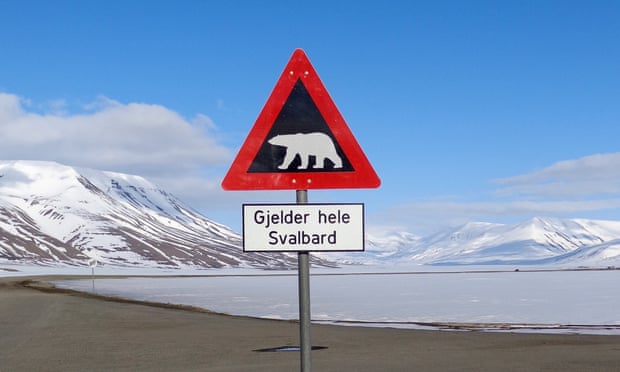 Photo: Balazs Koranyi/Reuters 
A sign warns residents of the arctic Svalbard islands in Norway of the danger from roaming polar bears. Norway is planning to expand its oil operations in the Arctic. 
Norway has a reputation for environmentalism. Unless you are talking about oil. Now some of the country's leading lights are suing the government because of its plans to start drilling in the Arctic. A Norwegian whose writing I admire is one of them.
David Crouch reports at the Guardian, "Norway's best-known author has lashed out at 'the shortsightedness and stupidity' of plans to expand oil exploration into the Arctic, as campaigners prepare to sue the government for placing future generations at risk from climate change.
"Karl Ove Knausgaard, whose bestselling memoir has been a global literary sensation, is fronting a campaign to mount a legal challenge against moves by Norway to open up the Arctic to oil companies.
"Oil and gas extraction in the Arctic has nothing to do with worthwhile goals such as alleviating poverty, Knausgaard said. 'Norway is one of the richest countries in the world – it's all about greed. … I never believed that my government actually would do such a thing. … It just makes me want to cry.' …
"The campaign aims to make use of a recent change to the constitution which obligates the state to take action to ensure natural resources are managed 'on the basis of comprehensive long-term considerations,' including safeguarding the environment for future generations. …
"The campaign by Norwegian environmentalists aims to mirror similar legal challenges in the Netherlands and in the US, where lawsuits have attempted to hold governments to account over climate change. In April, the Dutch Urgenda foundation launched the first case in the world to use human rights and tort law to hold a government responsible for failing to reduce carbon emissions fast enough.
" 'Where do we draw the line if not in the Arctic?' said Åsne Seierstad, the bestselling Norwegian author and another signatory to the petition. 'No economic policy is more short-term than relying on profits from the very areas that are worst affected from climate change.' "