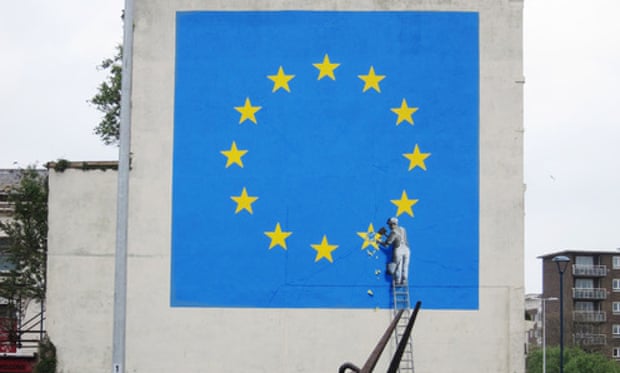 Photo: Hannah Ellis-Petersen for the Guardian
This mural of a worker removing one star from the European Union logo appeared overnight in Dover, Kent. It's Banksy's reaction to the Brexit vote.
When I was at the magazine and collecting articles for the next issue, I was sometimes surprised to discover I had a whole issue — or almost a whole issue — on one topic. Suddenly several articles on prisoner issues came together, or maybe immigrant issues, or agriculture issues. It was not planned that way, it just happened.
Today I notice that another United Kingdom topic has popped up after yesterday's entry on UK election artists. This post is about the street artist Banksy and his stealth reaction to the vote that authorized the UK to leave the European Union and expel many immigrants. Hannah Ellis-Petersen at the Guardian reported the story in May.
"A Brexit-inspired mural by Banksy showing a metalworker chipping away at a star on the EU flag has appeared in Dover. …
"The mural, which was confirmed by Banksy's representatives to be a genuine work by the elusive artist, is his first comment on the Brexit vote last year.
"The stars of the flag 'stand for the ideals of unity, solidarity and harmony among the peoples of Europe,' according to the EU website. …
"The Dover artwork is across the Channel from Calais, where a Banksy mural appeared at the main refugee camp in 2015, showing the Apple founder, Steve Jobs, whose biological father was a Syrian immigrant," reminding people that immigrants should be valued. More at the Guardian.
I have posted a few times about this street artist, and once I took a photo of what people said was his work. Check these links to a few of my Banksy posts: here, here, and here.
Banksy appears in Boston. Maybe.