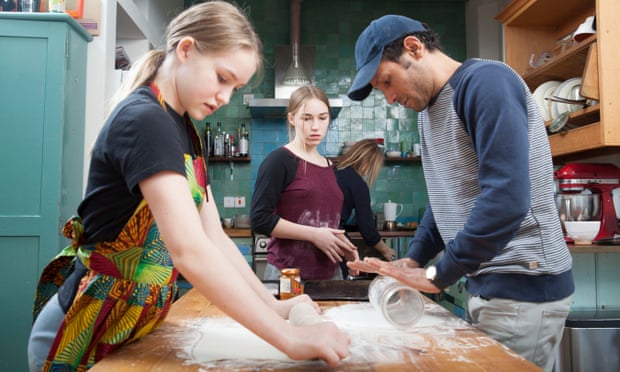 Photo: Alicia Canter/The Guardian
Mohammed, a Palestinian, bakes cheese twists with his host family in London.
Here's another example of individuals in the UK stepping up to give refugees a welcome — while providing themselves with an experience that feels more meaningful than donating money or sending "thoughts and prayers."
Alicia Canter, Kate Lyons and Matt Fidler write at the Guardian,
"It's a simple premise: people with a spare room in their house are matched with a refugee or asylum seeker in need of somewhere to stay.
"And it's a popular one: before 2015, Robina Qureshi's organisation, called Positive Action in Housing (PAIH), used to provide about 600 nights of shelter a year to people with nowhere to go. In the 18 months since September 2015 this has risen to 29,000 nights.
" 'We were getting bombarded with people. … They said, "I want to do something." ' …
"There are numerous points in the asylum process that asylum seekers and refugees can find themselves becoming destitute and homeless. Perhaps the most common is when they have their claim refused – at which point support payments stop and they are forced to leave their accommodation.
"People in this situation often find themselves homeless, without the right to work or receive benefits, unable to approach the local authority for help, and yet, in many cases, feeling unable to return to their home country. …
" 'The ones I feel really sorry for are the people who have been left destitute for years on end. People take them in and let them be human, and take them into a warm home where people care for them,' says Qureshi.
'What the hosts found out was that they were meeting a need in themselves – a need to give. Our society is so wealthy and our houses are stuffed full, but there's that need to help others.'
"Mohammed, 35, from Palestine, [lives] with Joanne MacInnes, an actor and activist, in west London, and on weekends her daughters Malila, 12, and Eve, 14. …
"MacInnes has hosted six people in her house, but Mohammed is, she and her girls agree, their favourite. 'He's the nicest of them all,' says Eve.
"Currently the family are trying to find Mohammed a wife. He uses his local mosque's dating service, but says that because of his precarious immigration status he is not considered a desirable match. …
"Mohammed says he was shy when he moved in and nervous about how the family would respond to him.
" 'First time I come in here, I'll never forget, Malila gave me a hug and speak with me,' says Mohammed. 'I was shy, Malila come in straight away, hug and speak with me and is not shy, you know. Eve is shy and Eve after two weeks spoke with me. And Joanne spoke with me. I feel family. Listen, I don't speak English, but I hope you understand me. My dad is dead, my mother is dead [and] my sister. Joanne, Mali and Eve are my family.' "