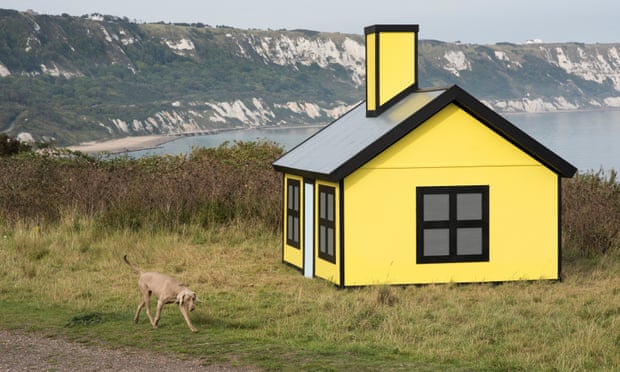 Photo: Thierry Bal
Artist Richard Woods's cartoon-like fake bungalows, installed for Folkestone Triennial, are a commentary on the surge in second homes along the coast.

An English artist who favors cartoon-like architectural constructions has created six bungalows for a Folkestone Triennial installation called Holiday Home.
Kathryn Bromwich interviewed him for the Guardian. "Born in Chester in 1966, Richard Woods graduated from the Slade School of Art in 1990. … [For the triennial] Woods has created six colourful bungalows, situated in unexpected locations around the town."
According to the interview, the artist is trying to reflect general concerns about who gets housing. People who can afford a second home? Immigrants from Calais across the Channel?
" 'I was in Folkestone 18 months ago and got given this strange leaflet saying, "Have you thought about turning your property into cash?" – basically, "give up your house so someone can buy it as a second home". The idea grew out of that: to make six identical bungalows and install some in very desirable locations, some not, but keeping it very open-ended. There's been equal [numbers of] people coming up to me and discussing the second home issue, and immigration. …
" 'There's one house in the harbour, floating around – somebody heard through gossip in the town that it was going to be floated to Calais and back again. Some people are genuinely interested in whether "boat people" will move into the houses. But then lots of people in the town completely get the project.' "
The interviewer asks, "What can Folkestone tell us about wider trends across the country?
" 'It's a compressed version of the UK: all those issues that are prevalent everywhere are kind of heightened. On a clear day we can see Calais … Folkestone has very broad, different economic groups and because of its proximity to London people are moving here wanting a second home. People have asked if the homes are going to be available for local residents or just people from London.' "
The exhibit runs until November 5. More at the Guardian, here.
I'm sitting in my second home as I write this. There is no question that second homes in resort areas make housing extremely difficult for year-round residents. That's one reason I support efforts to build affordable housing with subsidies, but I'm afraid it's just a drop in the bucket.