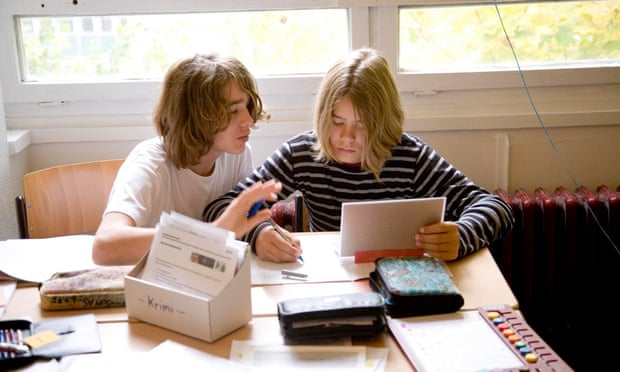 Photograph: ESBC Handout
Pupils at this German school have no homework and no grades until age 15, but they are learning a lot.
My husband and I have liked seeing how Montessori teachers guide children in learning. They get them started and then turn them loose to learn at their own speed and follow their own interests. Certainly, the approach has been good for Suzanne's eldest.
Having been an elementary school teacher for five years right after college, I continue to be intrigued by different techniques. Here is a method that is working in Germany.
Philip Oltermann writes at The Guardian, "Anton Oberländer is a persuasive speaker. Last year, when he and a group of friends were short of cash for a camping trip to Cornwall, he managed to talk Germany's national rail operator into handing them some free tickets. So impressed was the management with his chutzpah that they invited him back to give a motivational speech to 200 of their employees. Anton, it should be pointed out, is 14 years old.
"The Berlin teenager's self-confidence is largely the product of a unique educational institution that has turned the conventions of traditional teaching radically upside down. At Oberländer's school, there are no grades until students turn 15, no timetables and no lecture-style instructions. The pupils decide which subjects they want to study for each lesson and when they want to take an exam. …
"Set subjects are limited to maths, German, English and social studies, supplemented by more abstract courses such as 'responsibility' and 'challenge.' For challenge, students aged 12 to 14 are given €150 [$180] and sent on an adventure that they have to plan entirely by themselves. Some go kayaking; others work on a farm. Anton went trekking along England's south coast. …
"The school's headteacher, Margret Rasfeld, argues [that] the most important skill a school can pass down to its students is the ability to motivate themselves. …
"The Evangelical School Berlin Centre (ESBC) is trying to do nothing less than 'reinvent what a school is,' she says. 'The mission of a progressive school should be to prepare young people to cope with change, or better still, to make them look forward to change. … Nothing motivates students more than when they discover the meaning behind a subject of their own accord.' …
"Germany's federalised education structure, in which each of the 16 states plans its own education system, has traditionally allowed 'free learning' models to flourish. Yet unlike Sudbury, Montessori or Steiner schools, Rasfeld's institution tries to embed student self-determination within a relatively strict system of rules. Students who dawdle during lessons have to come into school on Saturday morning to catch up. …
"The main reason why the ESBC is gaining a reputation as Germany's most exciting school is that its experimental philosophy has managed to deliver impressive results. … Yet some educational experts question whether the school's methods can easily be exported: in Berlin, they say, the school can draw the most promising applicants from well-off and progressive families.
"Rasfeld rejects such criticisms, insisting that the school aims for a heterogenous mix of students from different backgrounds. While a cross adorns the assembly hall and each school day starts with worship, only one-third of current pupils are baptised. Thirty per cent of students have a migrant background and 7% are from households where no German is spoken."