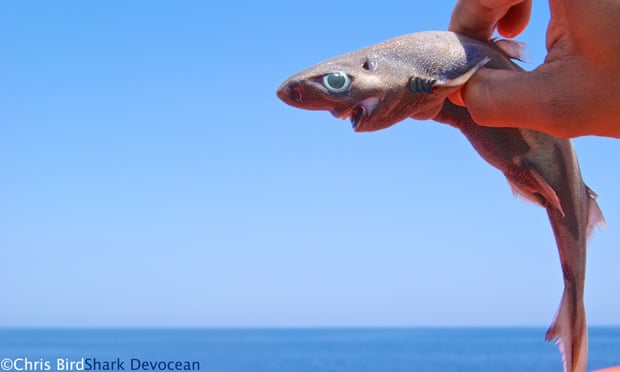 I have been learning all sorts of strange marine facts from Suzanne and Erik's children. They are hooked on a video series called The Octonauts, which features cartoon characters living in the sea. One piece of wisdom from the grandchildren was about wraith-like creatures called siphonophorae, a word that gives me trouble but rolls right off a child's tongue. Siphonophorae live even deeper in the ocean than the Octonauts and some are light emitting, which makes for a good storyline.
All this leads me to another light-emitting sea creature recently discovered near Hawaii, a shark.
Lauren Smith writes at the Guardian, "Light emitted by a new species of lanternshark, Etmopterus lailae, is camouflage and helps them to hunt, communicate and find partners. Early [in 2017] a new species of deep water shark, Etmopterus lailae, was discovered in waters surrounding the Northwestern Hawaiian Islands in the Pacific Ocean.
"Measurements of external features, teeth, vertebrae and intestines, along with specific external markings and patterns confirmed that it was indeed a new species – a member of the lanternshark family. Lanternsharks (Etmopteridae) are one of the most species-rich shark genera. …
"The lanternsharks are one of two deep sea shark families to possess the ability to bioluminesce – in other words, they are able to glow in the dark. The other shark family with the ability to do this are the kitefin sharks (Dalatiidae). This family houses the infamous cookie cutter shark, which was known for its impressive ability to disable US Navy submarines in the 70s and 80s. …
"Bioluminescence is the emission of light as a result of a biochemical reaction. In contrast to fluorescence and phosphorescence, bioluminescenct reactions do not require the initial absorption of sunlight or other electromagnetic radiation by a molecule or pigment to emit light. …
"Bioluminescence in vertebrates is found exclusively among fishes living in marine environments. At present the only known terrestrial animals capable of bioluminescence are arthropods. …
"It is also worth noting that bioluminescence is not just exhibited by deep sea dwellers existing in perpetual darkness. [One study] analysed 17 years of video footage taken from the sea's surface down to a depths of almost 4000 metres. Observations showed that the percentage of bioluminescent animals is remarkably uniform regardless of depth."
More at the Guardian, here.