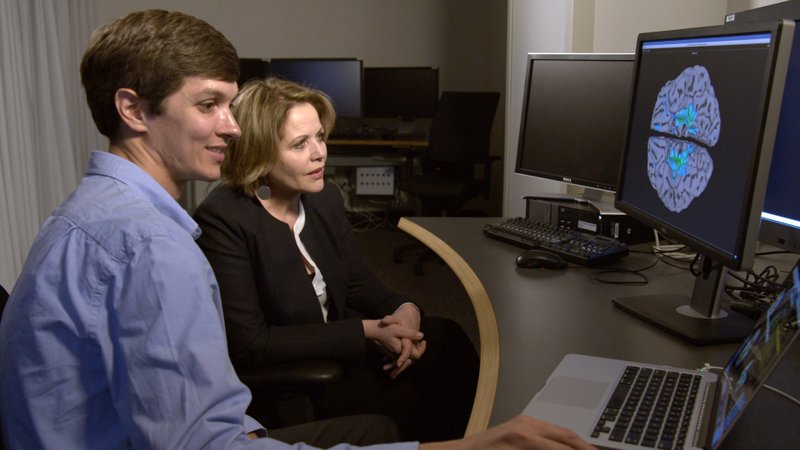 Photo: National Institutes of Health via AP
Soprano Renee Fleming looks at a brain scan with NIH neuroscientist David Jangraw after singing in the MRI machine.
To help scientists understand how music helps patients heal, notable musicians like opera's Renee Fleming are getting brain scans.
Lauran Neergaard writes at the Associated Press, "Music increasingly is becoming a part of patient care — although it's still pretty unusual to see roving performers captivating entire wards, like at MedStar Georgetown University Hospital one fall morning.
" 'It takes them away for just a few minutes to some other place where they don't have to think about what's going on,' said cellist Martha Vance after playing for a patient isolated to avoid spreading infection.
"The challenge: Harnessing music to do more than comfort the sick. Now, moving beyond programs like Georgetown's, the National Institutes of Health is bringing together musicians, music therapists and neuroscientists to tap into the brain's circuitry and figure out how.
" 'The brain is able to compensate for other deficits sometimes by using music to communicate,' said NIH Director Dr. Francis Collins, a geneticist who also plays a mean guitar.
"To turn that ability into a successful therapy, 'it would be a really good thing to know which parts of the brain are still intact to be called into action. To know the circuits well enough to know the backup plan,' Collins added. …
" 'The water is wide, I cannot cross over,' well-known soprano Renee Fleming belted out, not from a concert stage but from inside an MRI machine at the NIH campus.
"The opera star — who partnered with Collins to start the Sound Health initiative — spent two hours in the scanner to help researchers tease out what brain activity is key for singing. How? First Fleming spoke the lyrics. Then she sang them. Finally, she imagined singing them.
" 'We're trying to understand the brain not just so we can address mental disorders or diseases or injuries, but also so we can understand what happens when a brain's working right and what happens when it's performing at a really high level,' said NIH researcher David Jangraw, who shared the MRI data with The Associated Press.
"To Jangraw's surprise, several brain regions were more active when Fleming imagined singing than when she actually sang, including the brain's emotion center and areas involved with motion and vision. One theory: it took more mental effort to keep track of where she was in the song, and to maintain its emotion, without auditory feedback."
Read how the new insights are being used to study Alzzheimer's patients and others here.