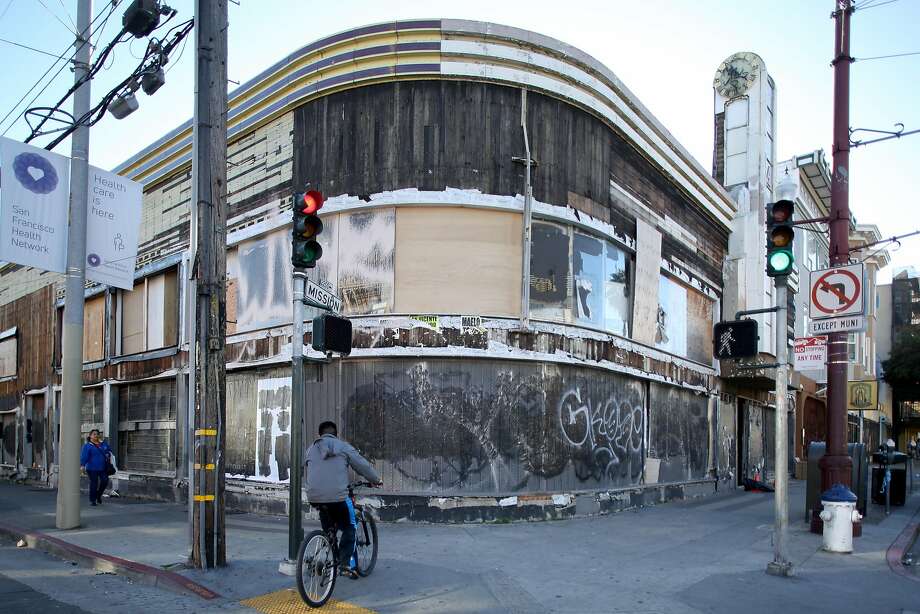 Photo: Elizabeth Hafalia, The Chronicle
Facing a need for affordable housing and arts space, San Francisco's Mission Economic Development Agency is joining with Dance Mission Theater and the Mission Neighborhood Centers to repurpose this neglected 1919 building.
Have you ever visited San Francisco's Mission District? A poor, immigrant neighborhood, it is nevertheless a vibrant experiment in people-oriented housing and support for food entrepreneurs and the arts. The creative energy there is tangible.
Moreover, the neighborhood's community-development folks never stop turning dreams into reality. J.K. Dineen has an update at the San Francisco Chronicle.
"A historic but long-neglected commercial building at Mission and 18th streets in San Francisco is poised to be rejuvenated with a mix of affordable housing, child care and dance.
"The dilapidated 1919 structure, a former furniture store that was remodeled with an Art Deco flair in the late 1930s, has been on and off the market for more than a decade. …
"Finally the Mission Economic Development Agency, a politically powerful group that often opposes market-rate housing, reached a deal to buy it by collaborating with Dance Mission Theater and the Mission Neighborhood Centers, which will open a child care facility there.
" 'We are all going in together to do a new model of cooperative living and dancing and taking care of our children,' said Krissy Keefer, executive director of Dance Mission Theater. 'It's going to be very communal.' …
"Brokers with the San Francisco office of the realty firm Marcus & Millichap … said market-rate developers were scared off by the Mission's anti-gentrification political environment and that 'MEDA was very good to work with.' …
"The building will be the group's first home ownership project — the others are rentals — and the first targeting middle-income families rather than low-income folks. Mission Neighborhood Centers is providing some of the project funding, along with two nonprofits: Low Income Investment Fund, a financial intermediary that provides capital for community developments, and the Neighbor to Neighbor fund."
I'm sure everyone has read about the housing crunch in San Francisco, with tech employees pushing prices up. It's good to hear of anything designed to ease the shortage. More here.