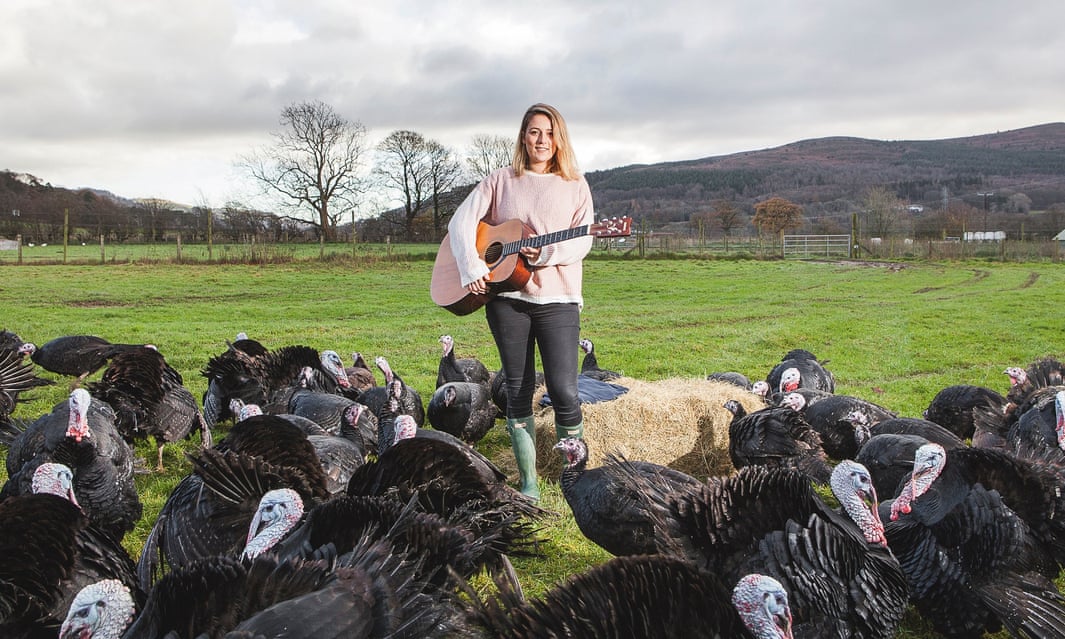 Photo: Andrew Jackson for the Guardian
Elin William says, "From the moment I started strumming, the turkeys crowded 'round."

A few months ago, I told my younger grandson that I had read a story about a woman who plays music to calm down turkeys. I don't think he quite believed me.
But it's true. Elin William wrote at the Guardian about her unusual use of music.
"I got my first guitar when I was 12, and it's been a slow process of self-tuition since then. I also play piano and violin, but I only play the guitar to the turkeys on the Rhug Estate farm in Corwen, north Wales, where I work.
"It began as an experiment. Rhug is an organic farm, and the main principle is to create as little stress as possible for the animals. But the farm is on the side of a main road, so some get spooked by loud noises: the traffic, machinery or sounds from the car park. We started playing the radio to them overnight. We'd put on Classic FM when we were shutting up at 7 pm and leave it on until we returned in the morning.
"The turkeys in particular responded really well. So we started playing the radio all day, every day. Then my boss, Lord Newborough, thought, 'What if the music was much more up close and personal?' He knew I played guitar and suggested I had a go. …
"From the moment I started strumming, the turkeys crowded 'round. I got the impression they enjoyed listening to me play. They started pecking on the guitar and plucking the strings. That's the result of organic farming: you get inquisitive animals, rather than ones that are scared. …
"I've now performed in front of hundreds of turkeys. … I sing Welsh folk songs and ones my dad would have loved to hear, like the Animals' 'House of The Rising Sun' – that's the one I like playing most. …
"I've been described as a turkey whisperer. It's like a horse whisperer, but not as glamorous. I don't have a magic touch – anyone who played to them would get the same reaction, to be honest. …
"I'm an animal lover and it's important to me that the turkeys are happy. But I'm not a vegetarian. Getting so close to the birds doesn't make me think I have to give up meat. Farming is a mega industry, but here the focus is on quality of life. Having worked with them, it's impossible to imagine turkeys in cages." Read more at the Guardian, here.