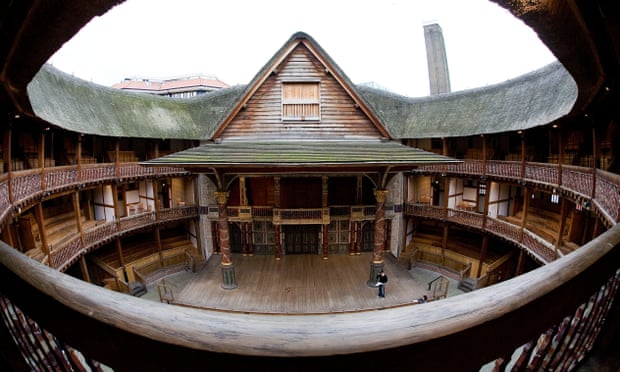 Photo: Alamy Stock Photo
The new director at Shakespeare's Globe, herself an actor, wants to take the hierarchy out of theater.

I've been reading a fascinating book about the making of Tony Kushner's monumental Angels in America, which you may recall is a play about AIDS, the Reagan years, the awakening of gay activism, Mormons, the unscrupulous McCarthy-ite Roy Cohn, bias, love, and theater.
I'm still in the beginning, where I'm learning about a 1970s political-theater group in San Francisco called the Eureka. One of its high-minded goals was to take hierarchy out of theater.
That's a goal yet to be met, or yet to be met for long, as appears from this article on Shakespeare's theater by Mark Brown at the Guardian.
"The new artistic director of Shakespeare's Globe has promised to give more power to the casts and audiences of plays, saying she wants to dismantle theatre hierarchies.
"Michelle Terry announced a new season opening with Hamlet and As You Like It. Eye-catchingly, none of the actors turning up for rehearsals will know which role they are taking, with the whole ensemble choosing who plays whom.
"In a similar vein, when the plays The Merchant of Venice, The Taming of the Shrew and Twelfth Night go on tour, some audiences will be able to choose which one they want to see that night. …
"Some eyebrows were raised because Terry, while a hugely accomplished Shakespearean actor, has never directed. [In January] Terry said theatre culture was too 'director-centric. with 'too much responsibility on one person.' …
"The first two plays will be presented by a Globe ensemble of 12 actors, two co-directors and one designer. The ensemble will decide who plays, for example, Hamlet or Rosalind.
"Terry said she had chosen Hamlet and As You Like It because they were both written around 1599, the year the original Globe was built, and were conceived with its architecture in mind.
"The democratisation will continue later in the season when one group of eight actors will have to learn three plays. …
"Terry promised diversity across the organisation, with the bottom line being: 'We just have to do it. We can't keep talking about it. … If our job is to hold a mirror up to nature then we've got to truly reflect the society in which we live.'
"Other new measures include allowing people into rehearsals, particularly school parties who might be heartened to see that even the actors don't understand what some words and lines might mean."