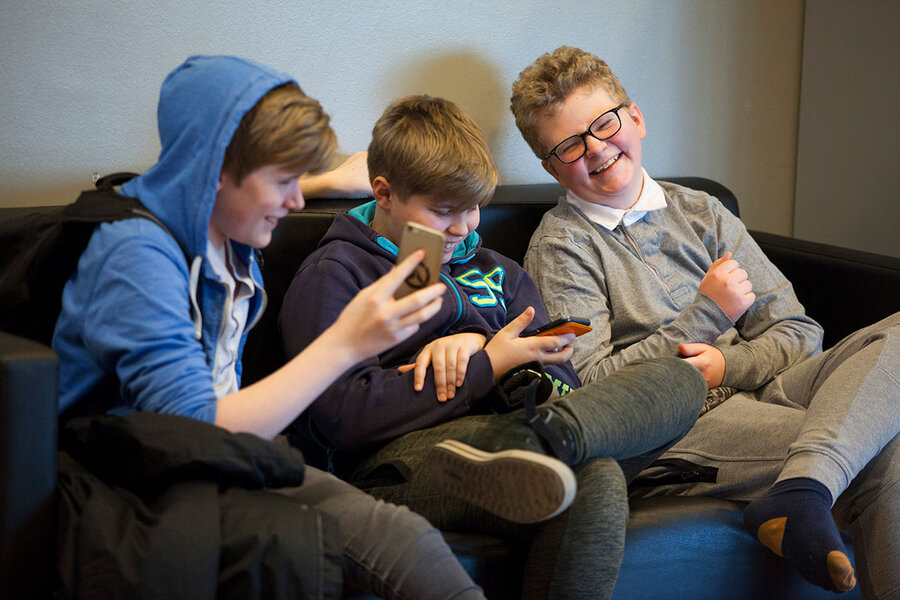 Photo: Melanie Stetson Freeman/Christian Science Monitor
Iceland has cut teen alcohol and drug use with fun after-school activities and a 10 pm curfew (age 18 and under).
Sometimes it takes a huge, intractable problem to motivate people to find serious solutions. That's what Iceland discovered after it was overwhelmed by an epidemic of teen substance abuse.
Sara Miller Llana writes at the Christian Science Monitor, "In the late 1980s, when Björgvin Ívar Guðbrandsson was a teenager, alcohol and school dances went hand-in-hand. While he was later to drinking than his peers – more interested in playing soccer and guitar – when he did start around age 16, he would smuggle alcohol in his guitar case into school events.
" 'I think the adults just turned a blind eye,' says Mr. Guðbrandsson. 'The culture was, I think, "they're just kids. As long as they aren't fighting, it's okay." '
"Today, as a teacher at Langholt school in Reykjavik where he once studied, he says that if a student were to show up drunk to a dance, it would  be such a scandal that the school principal would likely call child protective services.
"In reality, that rarely happens because substance abuse on a wide scale has essentially become a 'non-issue,' says Guðbrandsson. Alcohol and school dances, in other words, don't go together in Iceland today.
"This school is hardly alone. Teen drinking – as well as teen smoking, marijuana use, and abuse of other drugs – has plummeted across Iceland in the past two decades as academics, policy makers, and parents joined forces to clamp down. …
"Beyond adolescent alcohol and drug use, Iceland has shifted thinking on youth culture itself, making it by many accounts more innocent and carefree. It has expanded parents' notions of childhood and the importance of family time, while reinforcing the maxim that it 'takes a village' to raise a child, says Hrefna Sigurjónsdóttir, director of the national umbrella for parental organizations in schools, Home and School, one of the key players in the federal-state government program now known as Youth in Iceland.
"She calls it an 'awakening' that has taken place at home, school, and beyond. 'I think people are not confused anymore about, "is this kid an adult or not." ' "
Just-say-no substance-abuse prevention programs didn't work.
"Substance use kept going up, says Inga Dora Sigfúsdóttir, cofounder of the Icelandic Center for Social Research and Analysis (ICSRA), which is the data hub for Youth in Iceland. 'A group of people came together, sat down and said, "we need to find a different approach. This is obviously not working." '
"One of the problems was an ambiguous view of the line between child and adulthood, she says.
"One of the most absolute rules to take effect was legal curfews: Kids ages 12 and younger must be home at 8 p.m. in the winter and 10 p.m. in the summer. Thirteen to 16-year-olds must be home at 10 p.m. in the winter and by midnight in the summer, even when the sun is still blazing. …
"Parents began to sign agreements, through schools and parental organizations, with various pledges such as not allowing unsupervised parties in their homes or spending at least an hour a day with their children. …
"Municipalities funded and expanded after-school activities, from sports to gymnastics, to music, art, and ballet. The basic idea is to keep kids busy – and out of trouble – and help them find meaning in their lives that dissuades them from seeking alcohol or drugs in the first place.
"At its heart, it takes the onus off the teens themselves – the opposite of the D.A.R.E. approach – and places it on the community. …
" 'It does not concern teaching individual children about responsible choices, or even about making them responsible for their own behavior,' says Álfgeir Kristjánsson, a former data analyst at ICSRA who is now an assistant professor of public health at West Virginia University. 'The Icelandic approach … is to strengthen the societal and protective factors and drive down risk factors.' "
Makes such sense. When I was a teacher decades ago, I really didn't buy into the idea that students who got in trouble were always making "choices." If there was trouble at home, for example, kids were often tumbling into risky behaviors because of depression or other psychological stressors. The Icelandic approach seems to have opened the eyes of more adults to the complexity of the issue.