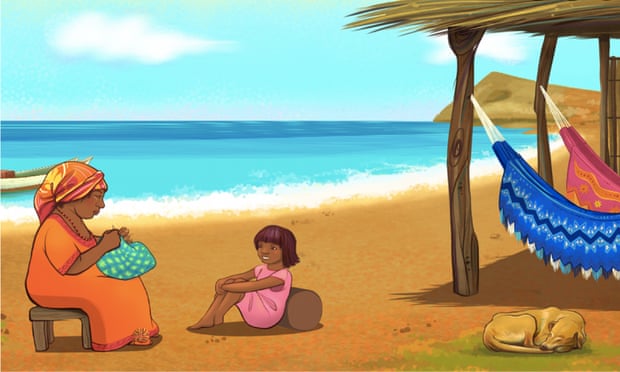 Photo: Colombia Games
A scene from the 'Ancient Wisdom' smartphone games, which allow players to learn about Colombia's indigenous peoples.
As we have discussed before, there are many cultures and languages in danger of dying out, often because few people know about them.
A Colombian game company has taken a step toward addressing that ignorance, providing school children with entertaining phone games to help them learn about their indigenous neighbors.
Joe Parkin Daniels writes for the Guardian, "In a simple wooden hut on a Caribbean beach, a young girl sits at the feet of her grandmother, who is crocheting a brightly coloured shoulder bag whose intricate design draws on the mythology of the Wayuu people.
"It's the opening scene from a smartphone game that seeks to educate Colombian children about their country's endangered indigenous cultures.
"Some 3.4% of the Colombia's population belongs to 87 different indigenous groups that speak 71 languages. But experts warn that these diverse cultures are at risk of dying out, threatened by climate change and violent armed groups operating in isolated regions the state has not reached. The National Indigenous Organisation of Colombia (Onic) estimates that 35 ethnic groups are at risk. …
"The games, available for iOS and Android devices, challenge players to learn the languages and cultures of the country's indigenous groups, which vary from farming communities in the northern Darién jungle to nomadic hunter-gatherers in the Amazon. …
"The games narrate indigenous creation stories, and players must solve puzzles and draw the wild animals that populate indigenous myths.
" 'From one day to another these cultures could be lost,' said Juan Nates, the CEO of Colombia Games, which recently relaunched the games. 'When we started this project, I assumed there were three or four indigenous tribes; it was a shock to know how many there are – and how little we know about them.'
"The project was funded by the Sura Foundation, an educational subsidiary of the Sura banking group. The Sura Foundation has also sent about 200 teachers to schools to educate children about endangered cultures. …
"For Nates, raising awareness is key to preserving at-risk indigenous cultures. 'People can't worry about something, can't do something, if they don't know about it,' he said. 'It feels good to help with that.' "
Unfortunately, native children themselves usually don't have smartphones, so it seems like the next step for a kindly philanthropist or foundation would be to get them some to use in school. (Can't imagine anyone wants children looking at phones more than that.) And it would be nice if the different groups of kids could actually meet.
But what a good start! I'd love to see a game like this in parts of the US where there are large indigenous populations.
Finally, I don't want to close without giving a shout-out to the Tomaquag Museum, which works to improve New Englanders' knowledge of Rhode Island tribal culture through educational activities for children.
More at the Guardian, here.