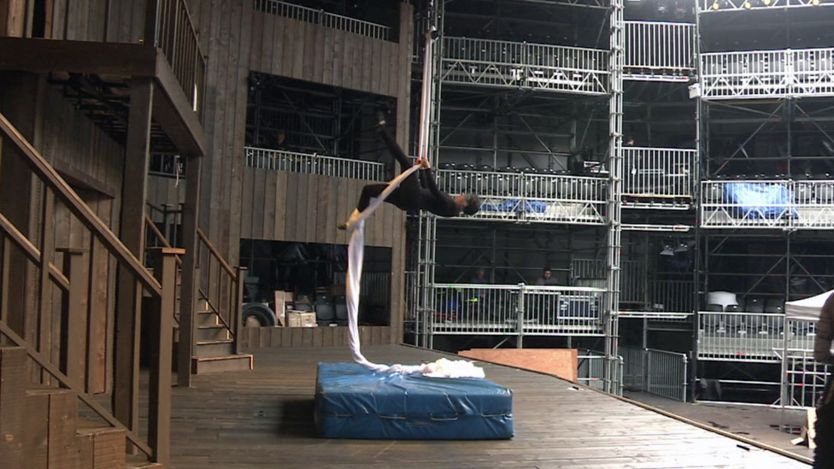 Photo: BBC
An aerial performer rehearses on stage at Shakespeare's Rose, a pop-up theater in York, England.
You've heard of pop-up libraries, pop-up gift stores, and pop-up restaurants. Now here comes a pop-up Shakespeare theater in York, England.
Ian Youngs writes at the BBC, "Shakespeare's Rose, which [opened in April] and has cost £3m, is Europe's first 'pop-up' Shakespearean theatre. …
"The temporary theatre has been built in a car park in 28 days to a circular design, similar to those erected on Bankside in Shakespeare's day.
"It will stage four of his plays with a cast including [TV actor] Alexander Vlahos, who will play Romeo in Romeo and Juliet, and Catesby in Richard III.
"As well as the audience members standing in the centre, a further 660 will watch from seats on three levels around the edge.
"Shakespeare and his contemporaries would recognise the design and 'tricks' like trapdoors and flying, which have hardly changed over the past 400 years, according to [producer James] Cundall.
" 'They'd find everything they had in their theatre — they just probably wouldn't recognise [Layher] scaffolding,' he says. 'Each length [of scaffolding] is probably about the same size as a standard oak beam, so that's how Shakespeare's oak became German scaffolding. …
"There was an actual Rose theatre in London in the Bard's time, which was recreated for the 1999 film Shakespeare in Love. …
"Professor Judith Buchanan of the University of York, who has advised on the pop-up theatre, said: 'Shakespeare's Rose Theatre is not a historical reconstruction of the early modern Rose playhouse on Bankside, nor of any other early modern playhouse. It is an approximate and suggestive architectural allusion to the idea of the early modern playhouse.'
"The creators of the York theatre will hope that their venue doesn't replicate some other aspects of the original Rose — which had to be closed occasionally due to riots or the plague, and which had one cast member who killed the other in a duel."