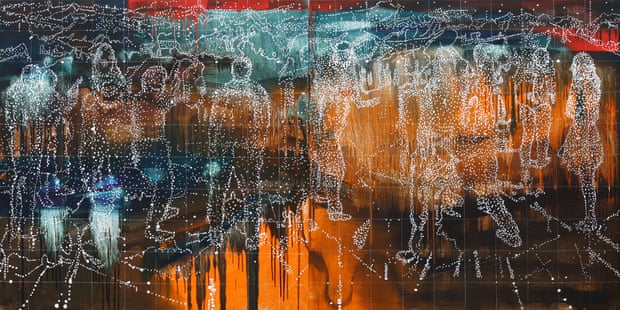 Photo: Jon Cattapan/Dominik Mersch Gallery
The Decade Positions, by Jon Cattapan (2017).

I've been reading arguments lately about "cultural appropriation" — both from those who think artists should stick to their own culture and from those who think that artists who imagine how people from a different culture feel are building understanding.
I thought about the controversy as I read this article on Australia's indigenous dot art by Brigid Delaney at the Guardian.
"For a long time," she writes, "the dot painting has been synonymous with Aboriginal art. Emerging out of the remote Northern Territory community of Papunya in the early 1970s, the first dot paintings were produced when art teacher Geoffrey Bardon encouraged his Indigenous students to paint their stories in murals on the school wall.
"But long before that, circles and dots were used in ceremonies in the form of body paint or marks on the ground. The Papunya people drew on this knowledge in their art, painting stories, ceremonies and rituals, first on walls and then on canvas and board.
"dot, dot, dot […], a new exhibition at Sydney College of the Arts, tackles some of the issues around the use of Papunya dots in paintings, but also looks at why so many artists – Indigenous and non-Indigenous – are attracted to using dots in their work.
"Curator Janelle Evans, a lecturer at Sydney University, a Wingara Mura fellow and Dharug artist, told Guardian Australia that the exhibition had its genesis in 2006, when she conducted an interview with Australian artist and political activist, Richard Bell. 'He was talking about Aboriginal art as something constructed by the art market.' …
"The ubiquity of the dot painting was so powerful that Indigenous artists working in different mediums had trouble attracting the interest of the international art market. At the same time, the market became flooded with cheap fakes and rip offs, alongside mass-produced tack such as tea towels made overseas and sold to tourists. …
"In situations like this, Indigenous people rarely see the profits of their artefacts being used, perpetuating a cycle of poverty and appropriation.
"Queensland MP Bob Katter has taken up the cause, putting a private member's bill before parliament that seeks to amend consumer law to ensure that profits from Indigenous art and artefacts go back to Indigenous communities. …
"What about artists using the dot who are non-Indigenous? It could be seen as cultural appropriation, although Evans says it's not that clear cut.
" 'Non-Indigenous artists who work with dots can work without appropriation. Within the dot, there's a whole world that can be created. Artists have always referred to other artists in their work but appropriation becomes an issue when you are copying someone's style. You need to bring your own inquiry to into what you are doing.' …
"dot, dot, dot […] … focuses on showing work from artists who interpret the dot beyond the style of central and western desert artists and 'in ways that are non-derivative,' says Evans."