A couple years ago, I was taken with a newspaper photograph of pink and blue buildings in a lonely North Korean square. So foreign. So melancholy.
I tried to get in touch with the photographer, David Guttenfelder, to see if I could buy a print. That didn't work out, but I learned quite a bit about him and his special status as an approved photographer for Western outlets in North Korea. I became a follower on twitter and instagram, where I discovered that his photos of everyday life in the isolated country had inspired other Westerners living there. Now I follow posts on instagram by a group of people calling themselves everydaydpk.
So I was intrigued when Studio 360 also took an interest in photographs from North Korea.
Khrista Rypl posts on the radio show's website, "North Korea's seclusion makes pictures from inside the country irresistible novelties. But while the country's borders are tightly controlled, visiting isn't as difficult as you might expect. Almost anyone with enough cash can book a tour (although the US State Department advises against it) and people even travel there to run in an annual marathon. Officially, North Korea says it hopes to attract two million visitors by 2020.
"One of the tours available is an architectural survey of the nation's capital, Pyongyang. Oliver Wainwright, architecture and design critic for The Guardian, recently visited the country with that itinerary. He's been posting photos of interiors of the city's buildings, and wrote a nice piece about his visit. It's a fascinating glimpse inside a closed society. The empty interiors look like they're part of an abandoned theme park from the 1980s.
"Wainwright notes that pastel colors appear everywhere in the city and calls the aesthetic 'kindergarten kitsch' — 'the logical next step for a regime intent on projecting an image of carefree prosperity.' …
" 'In every refurbished building we visit, there is a peculiarly consistent style of preschool colour schemes and shiny synthetic surfaces, the pastel palettes and axial symmetry giving an eerie feeling of walking into a Wes Anderson film set, or a life-size Polly Pocket toy,' [he adds].
"The decor certainly has a child-like quality, both in the color palate as well as in how each room has been pared down to a few essential elements, like a dollhouse."
See if you agree, here.
Photos: Oliver Wainwright/Tumblr
The National Drama Theater in Pyongyang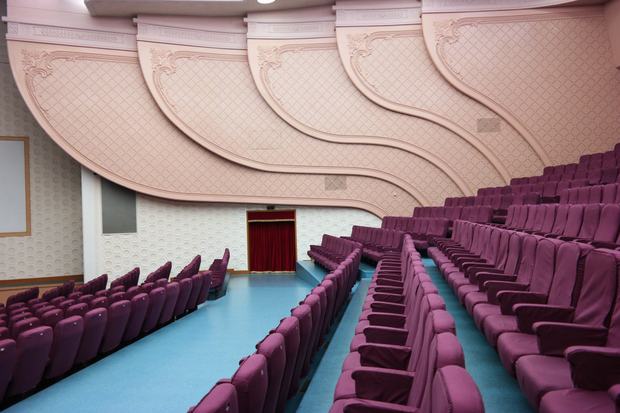 Below, a rendering of an architectural project from the Paektusan Academy of Architecture in Pyongyang