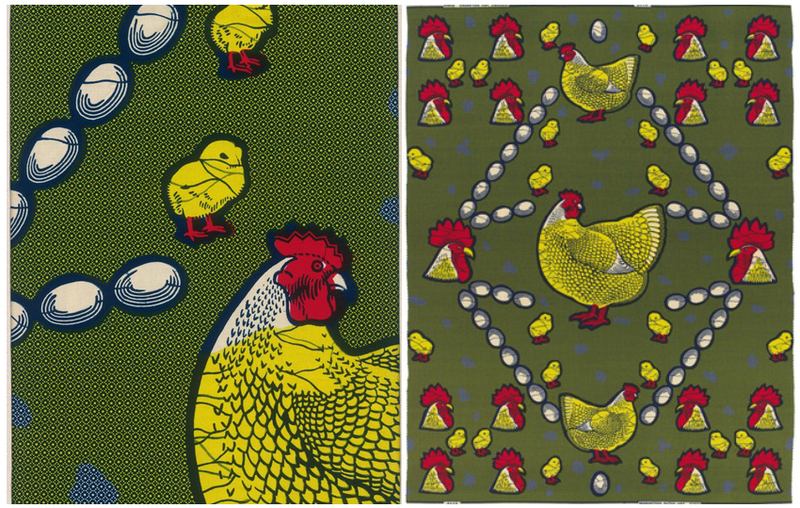 I had to share a delightful report from the radio show Studio 360 in which Khrista Rypl looks at the cultural aspects of African textiles.
She writes, "African textiles are distinctive for their vibrant colors, bold patterns, and batik dyes that give the fabric a unique crackled texture. But I had no idea that some of the trendiest of these prints are actually designed and produced in the Netherlands by a company called Vlisco.
"Inge Oosterhoff wrote a wonderful deep dive into the history behind the Vlisco textile house, and explained how their designs have remained hugely popular in Africa since the late 1800s. But Vlisco doesn't just make fabric; they're known for their printed designs. … Some patterns are designed with different countries in mind, while others are distributed widely around the continent. As the patterns catch on among shopkeepers and consumers, many of them get colorful names like 'Love Bomb,' 'Tree of Obama,' and 'Mirror in the Sun.' …
"Many patterns are sold widely in Africa, and different countries and cultures adopt different meanings and associations. [A swallow] print is a perfect example. The fabric was used for airline uniforms in Togo, so there the pattern is commonly referred to as 'Air Afrique.' The pattern also symbolizes asking for a favor, like the hand of a woman in marriage. In Ghana, the swallow refers to the transience of wealth, and the pattern is referred to as 'Rich Today, Poor Tomorrow.' It has a similar connotation in Benin, where it's referred to as 'L'argent vole,' where it could either be interpreted as 'Money Flies' or 'Stealing Money.' "
More designs and more of Studio 360 report, "Textiles Tell a Cultural History," here.
Photos: Vlisco