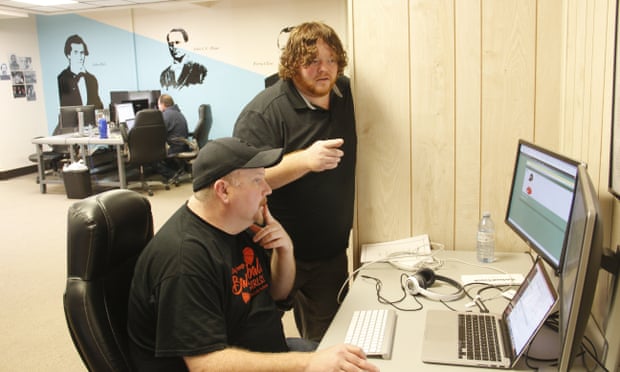 Photograph: Cassady Rosenblum
Garland Couch (seated) works on some code with James Johnson. The men are part of an effort to turn coal country into Silicon Holler.
About a year ago, I wrote a post about Mined Minds, a nonprofit founded by two young Northerners to help jobless miners learn computer coding skills.* This follow-up shows that the idea is taking root and spreading.
Cassady Rosenblum writes at the Guardian, "As Highway 119 cleaves through the mountains of eastern Kentucky, exposed bands of black gold stretch on for miles – come get us if you can, they tease. And for years, miners did: they had good employment that earned them upwards of $70,000 a year and built a legacy of blue-collar pride in the region. 'We felt like what we did was important,' says Rusty Justice, a self-described entrepreneur who hauled his first truck of coal in eighth grade. And it was. In 2004, coal powered half of America's electrical needs.
"But by 2011, Justice and his business partner, Lynn Parish, who worked in coal for 40 years, began to worry. … So the two coal men from Pikeville began thinking about how they could diversify.
Coal country must transform itself into something else, a new place on the map the hopeful call 'Silicon Holler.'
"In its own, proud way, Pikeville has a new message for America: we're ready to move on if you're ready to let us do it our way. That means some help from the government, but not a handout. 'We need to identify the doers and facilitate their ideas,' Justice says. …
" 'We considered just about everything. Windfarms, solar farms, hog farms – you name it,' he laughs. As unemployment tore through their 7,000-person town, Justice and Parish prayed for a business idea that would not just pay, but pay people what they had been making before in the mines. …
"Their breakthrough came when Justice and Parish visited a workforce retraining expo in 2014 in Lexington, where they learned about coding.
"The concept appealed to them. Each year, 600,000 US tech jobs go unfilled, jobs that ultimately go overseas but could be on-shored if more Americans had the right skills. Even better, the job paid the same as the mines.
"Justice had seen first-hand how miners employed logic to solve life or death problems underground. Still, he wondered, could a coal miner really code? He called his computer-savvy friend Justin Hall with that question. 'I don't see why not,' Hall said. 'Great, you're hired,' Justice told him.
"They placed ads for their new web and app design company, Bitsource, in 2015, then watched as more than 900 applications rolled in. From this pool, they chose 11 former miners who scored highest on a coding aptitude test. Two years later, in an old Coca-Cola factory by the Big Sandy river, nine men and one woman remain.
"On a late March day, Hall stands at a whiteboard [and] fills the board with modules and nodes as the guys shout out ideas in lingo that eventually makes Garland Couch, a 55-year-old coder, pause at how far they've come. 'Man, we're nerds now,' he laughs, pushing his Under Armour cap back on his head. After the session, they break for lunch, then return to work with Drupal software on laptops whose Apple icons glow next to bumper stickers that say 'Friend of Coal.'
"Despite the team's new profession, the stickers are a nod of respect to an industry they all got their start in, an industry that still employs some of their friends and family. As Parish is fond of saying, change is necessary, 'but you don't want to upset the one who brought you to the dance.' "
Read about other companies retraining miners in Kentucky, here.
*Update May 12, 2019: Uh-oh. Read about an unfortunate outcome, described at the New York Times, here. I still think it was a worthy effort.