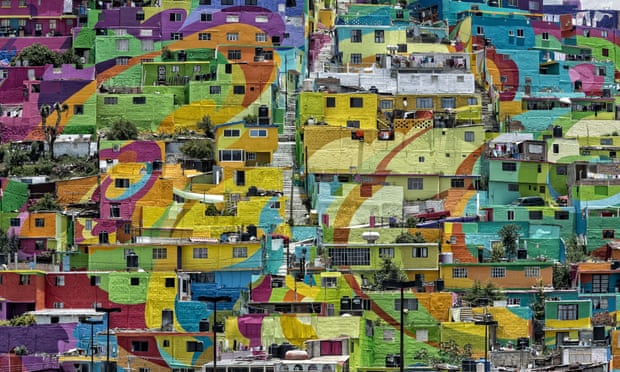 Photo: Omar Torres/AFP/Getty
Las Palmitas in Mexico, a giant example of a town painting itself.

In Gallup's Global Emotions Report, the countries that come out best are completely different from those that top the UN's better known Happiness Report, which gives more weight to metrics such as GDP. A design organization has taken note.
Christopher Turner provides background at the Guardian.
"The 2017 Global Emotions Report [is] an ambitious survey of the global mood. To compile it, Gallup conducted in-depth interviews with nearly 150,000 people in 142 countries.
"The report seeks to measure positive and negative daily experiences by asking people to rate their previous day. 'Did you feel well rested yesterday? Were you treated with respect all day? Did you smile or laugh a lot? Did you experience enjoyment? Did you learn or do something interesting?' … Conversely, interviewers asked them if they felt pain, anger, worry or stress. …
"In 2012 the UN launched its first World Happiness Report, using data also collected by Gallup, and called on member states to place more emphasis on happiness as a measure of social progress and to guide public policy.
"In the UN's report, interviewees are asked about their perceptions of social support, personal freedom and corruption, rating their lives on a ladder from zero to 10. The results correlate closely with a list of the world's wealthiest nations. Norway is currently the happiest country, followed closely by Denmark and Switzerland. … at the other end of the spectrum, people from Syria, Burundi, Tanzania and the Central African Republic rate life satisfaction at about three.
"In contrast, the Global Emotions Report poll of positive experiences is led by Paraguay (only 70th in the Happiness Report, and one of the poorer countries in terms of GDP), then Costa Rica.
"Indeed, Latin American countries traditionally come out top in the index, a fact attributed to the presence of strong social and family networks. …
"In the face of such statistics, what lessons can architects, designers, citizens and community activists learn from these polls? The theme of the second London Design Biennale, announced [in June], is 'Emotional States.' It aims to inspire a diverse, global commentary on our turbulent times, interrogating the ways in which design affects every aspect of our lives, and influences our feelings and experiences. …
"The biennale will feature an installation by Norway, in which the government is backing a decade-long initiative devoted to a people-centred approach to design. Engaging citizens in the process, it's part of an ambitious action plan to make Norway inclusively' designed by 2025. The government is also taking a proactive approach to the environment, and recently pledged that all cars on the roads will be electric within a decade. The exhibition includes examples of technology and innovation that employ design as a strategy for a better future.
"Guatemala, which ties for sixth place in the Global Emotions Report, will show an installation about the community action taking place in Santa Catarina Palopó. This town on the volcanic shores of Lake Atitlán is reinventing itself as a kind of conceptual art, using the paintbrush to boost civic pride and tourism. Its residents have become involved in a two-year scheme in which they are painting their houses in bold Mayan patterns, with a strict but vibrant palette of five colours sourced from local textiles." More at the Guardian, here.
Photo: GraphicaArtis/Getty
"Now just 10 years away … a 1950s illustration of a family playing a board game while their electric car does the driving." Ten years?