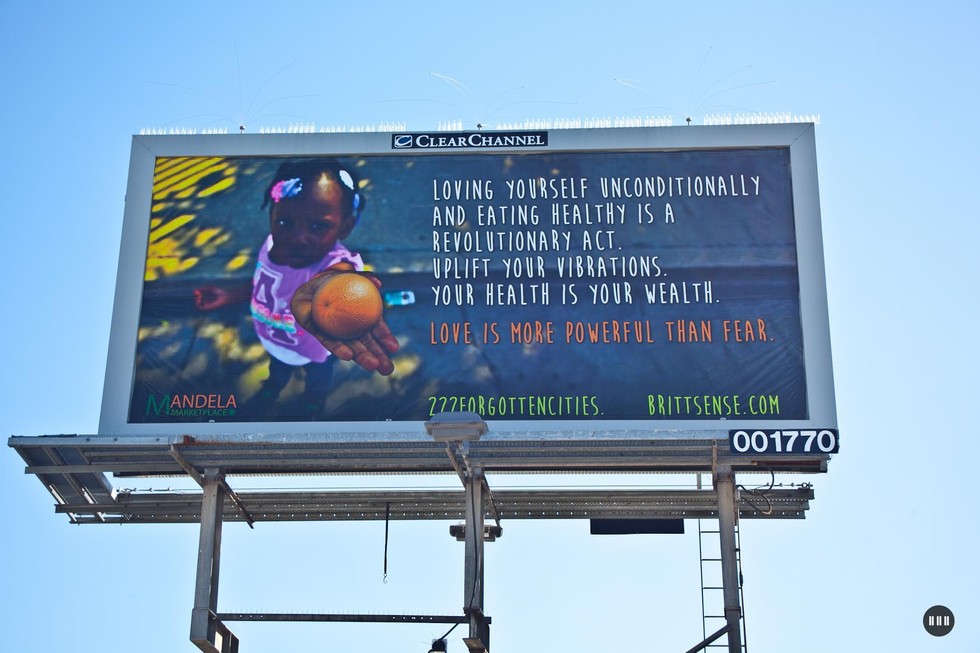 Image: Brittani Sensabaugh
Billboard at 66th and International, East Oakland, California.
The billboards that photographer Brittani Sensabaugh has been putting up in East Oakland, California, are specifically intended for people in the neighborhood, generally people of color. But they are such positive images, I think they speak to us all.
Sarah Medina writes at 7×7, " 'Loving yourself unconditionally and eating healthy is a revolutionary act — especially where I come from.'
"That's the message behind a host of new billboards that have been popping up around the West and East Oakland neighborhoods. Brittani Sensabaugh, 27, an East Oakland photographer, has made it her mission to document America's most dangerous neighborhoods. The project began when Sensabaugh noticed the prolific negativity behind the advertising in the East Bay's poorest districts, where signs sell cigarettes, HIV testing and 'ugly homes for cheap.
" 'Not only do we not have access to healthy habits in these communities, but there's no advertising telling us how to access a healthier lifestyle. We need to see uplifting, positive imagery in our communities,' explains the young photographer. …
"Rather than be associated with a large name brand, Sensabaugh decided to pay for all the billboards herself and reach out to minority-owned businesses to help her spread her uplifting message.
"Mandela Marketplace, a non-profit organization that works to build health and wealth in low-income communities of color, was her first ally, and a collaboration with Yoga Love, an African American-owned yoga studio in North Oakland, is in the works [as of November 2016]. 'That way the money stays within the community,' Sensabaugh explains.
"The results are inspirational billboards that stretch from the corner of 73rd and International in East Oakland to the West Oakland BART station. And while the missives are different on each board, their meaning is constant: Love yourself. Heal yourself. Love is greater than fear.
" 'The reaction has been powerful,' says Sensabaugh. 'I've had women cry when I show them the billboards. They've never seen our people looking so wonderful.' …
"See more of Sensabaugh's work and contribute to her billboard campaign at brittsense.com."
More at 7×7, here.