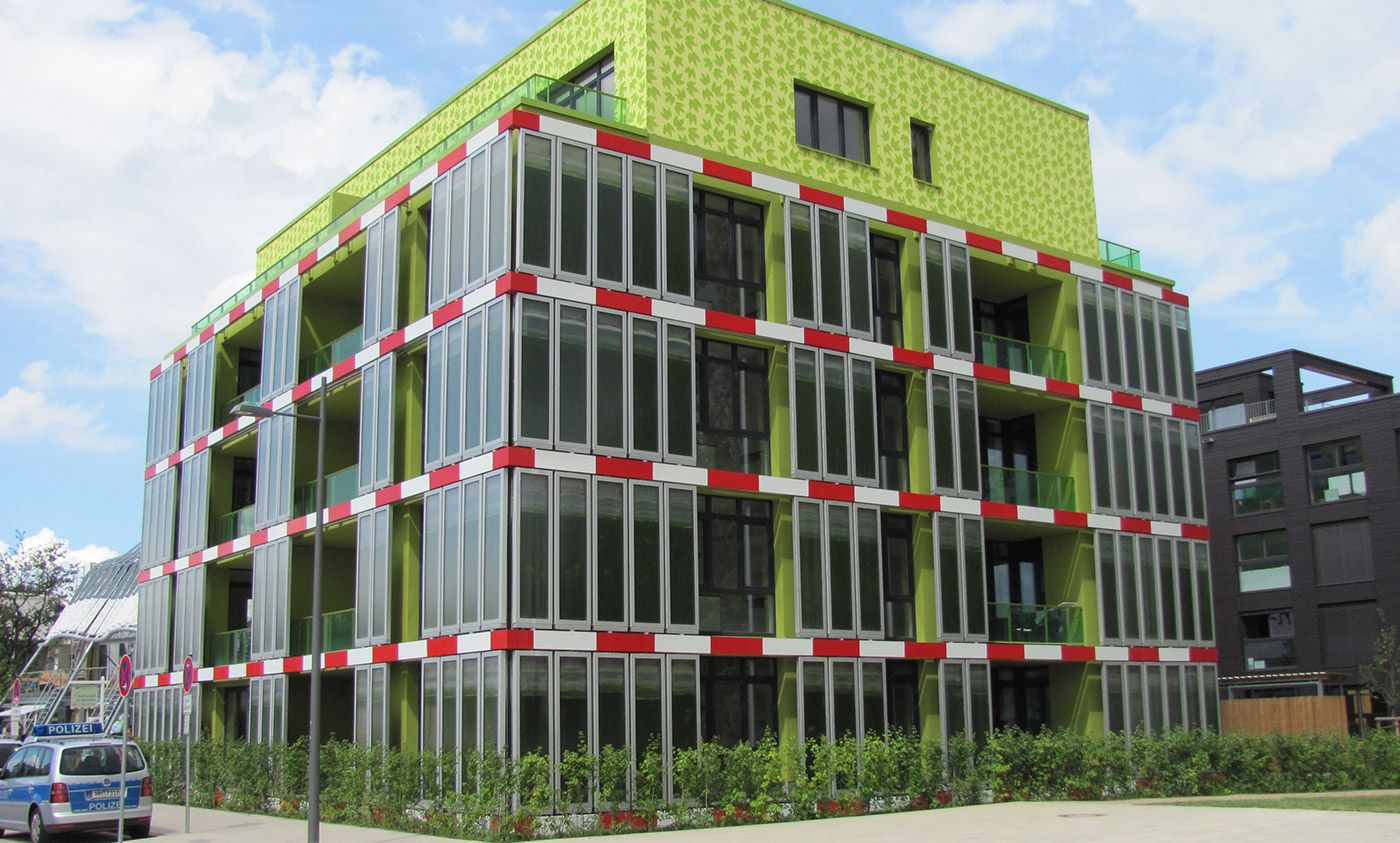 Photo: Wikipedia
The facade of the BIQ (Bio Intelligent Quotient) house in Hamburg has tanks filled with microalgae that produce biomass used to generate electricity.
It's reassuring that there are always thinkers who are really "out there," wildly inventing better ways to do things. For example, in architecture. Did you know there was such a thing as experimental architecture? Me neither.
Rachel Armstrong is a professor of experimental architecture at Newcastle University in the United Kingdom. You can read about her views on breathable buildings at the website Aeon.
"Traditional buildings are designed to provide protection against a savage world, with us safe on one side and our waste on the other. Architects have long relied on 'hard' materials such as masonry, aluminium and glass, specifically chosen to prevent the outside environment from getting in. Impermeability was, and is, a driving goal.
"It is time to rethink that approach. Our current built environment squanders too much fresh water and other vital resources, and tips too many poisonous substances into our surroundings. To develop a more sustainable relationship with the natural world, we need to allow chemical exchanges that take place within our living spaces, and between the inside and the outside. We need to embrace permeability. …
"In many offices, it is no longer possible to open windows manually to let in a breeze. Automated air-conditioning systems (often answering only to sensors and software) blast summer heat out into scorching walkways, amplifying the urban heat-island effect and contributing to heat-related health risks. Such buildings ignore the metabolism that is the dynamic scaffolding of living systems.
"During the 1970s, the ecologists John and Nancy Jack Todd and William McLarney founded the New Alchemy Institute – now the Green Center on Cape Cod in Massachusetts – to reconceive building spaces as part of a self-sustaining human ecosystem. Such spaces would not be hermetically sealed, but rather open to the flow of natural elements. …
"Incorporating permeability into architecture begins with a building's composition. In the past 20 years, engineers have developed organic construction materials that have various degrees of permeability. Mycotecture – architectural building blocks that are formed from the fibrous material of fungal roots – are as strong as concrete and as insulating as fibreglass. BioMASON bricks are built by microorganisms; they do not need firing and are as strong as traditional masonry. Bioplastics are produced by bacteria using biogas from landfills and wastewater treatment plants. Since they are not derived from petroleum, bioplastics have lower carbon footprints. Like wood, they are 'farmed' into existence. …
"Semi-permeable ceramics in particular can be treated to provide binding surfaces for biofilms, large coordinated colonies of bacteria or other microorganisms. Biofilms can be grown to have semiconductor properties, akin to solar cells or computer circuits. When treated with manganese, biofilms can become filters that regulate the flow of air and water into a building. …
"The BIQ House in Hamburg has a façade of thin-walled tanks filled with microalgae. The algae harvest sunlight and carbon dioxide, and produce biomass that can be used to generate electricity. The translucent, living tanks also regulate the building temperature by absorbing more sunshine as the biomass increases. In this case, the glass of the tanks is impermeable to water but lets in sunlight – a different kind of permeability, which is critical for the organic exchanges within the façade.
"The Living Architecture (LIAR) project, funded by the European Union among others, is a fruitful effort to create showcases of semi-permeable design. For instance, the project aims to transform bathrooms, kitchens and commercial spaces into environmentally sensitive, productive sites. …
"The LIAR project is still in a prototype phase. Quantitative inputs and outputs have not yet been formally established. But project leaders expect to see integrated bioreactor wall systems in real homes within the next 10 years." More at Aeon, here.
All I can think of right now, having recently experienced a week of below zero Fahrenheit degrees, is, "Will the solar properties be enough? Can buildings turn off the permeability?"