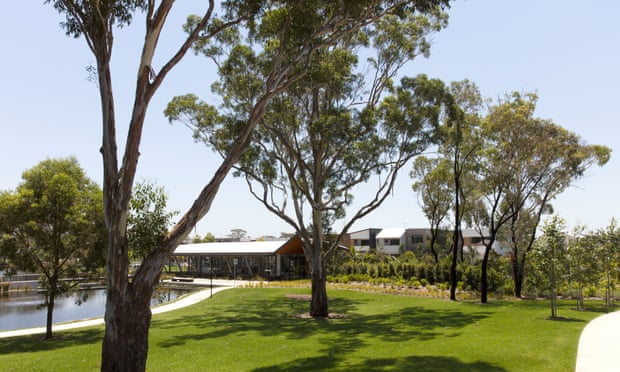 Photo: Frasers Property
Fairwater, developed by Frasers Property, is the largest geothermal community in the southern hemisphere.
These days there's a lot of talk about "sustainable" daily-living practices and "sustainable" business practices. But let's be honest: some practices are more sustainable than others.
One monitoring organization that sets a high bar is the Green Building Council of Australia (GBCA).
Clarissa Sebag-Montefiore wrote recently at the Guardian about projects the council has approved: "In 2016, a new master-planned estate in [Blacktown, near Sydney] became the first residential community in New South Wales to be awarded a top, six-star Green Star community rating by the Green Building Council of Australia.
"Not only that, Fairwater, developed by Frasers Property, is the largest geothermal community in the southern hemisphere. Houses are cooled or heated by a refrigerant that pumps air underground then back to the surface, using less power than air-conditioning or heating and saving residents of a three-bedroom house $500 to $600 a year.
" 'There's this avenue of mature trees with this massive lake and lovely terrace houses – yoga by the lake, cycling paths, all these people walking,' says the GBCA chief executive, Romilly Madew. …
"Green-star buildings produce, on average, 62% fewer greenhouse gas emissions and use 51% less potable water and 66% less electricity than average buildings in Australia, according to GBCA's 2013 report The Value of the Green Star.
"Since launching in 2003, hundreds of buildings around the country have been certified for the rating system and 120,000 people are now moving into Green Star communities. …
"The key is looking at the project holistically, says Madew. 'It's about going back to that old adage of community: people, walkability, liveability, places for the kids to play. [We want to] change the way people think about how they live.'
"Developers, ultimately, 'are there to sell house and land packages – so they're not going to be successful unless they're building something people want to buy. Take "sustainability" out and ask what [buyers] want. They want something close to amenities – schools, public transport, shops and parks. And a home that is cheap to run.' " Read about other sustainable projects in Australia here.
Hat tip to ArtsJournal.com, a great source of stories.