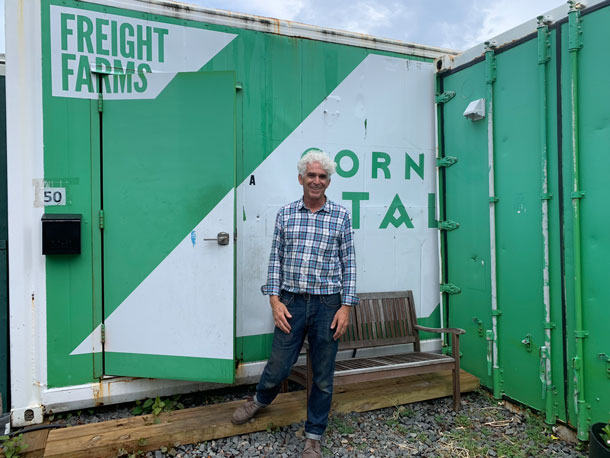 Do you get the radio show Living on Earth where you live? I find it fascinating no matter what topics they cover. Here is a recent episode on urban farming.
"HOST STEVE CURWOOD: Industrial agriculture today is a resource-intensive endeavor, requiring big machines, plenty of land, water, and energy to produce much of the food on a typical American dinner table. And as the public trends more toward plant-based foods, some are thinking outside the box by bringing farms inside the box. By retrofitting old shipping containers with grow lights and hydroponic gear, what would take about an acre of land to grow vegetables such as lettuce can be fit into just 8 by 40 feet. Living on Earth's Jay Feinstein and Aynsley O'Neill took a trip to Corner Stalk Farms in East Boston, Massachusetts to find out more. …
"O'NEILL: I see these shipping containers. I mean, right in the middle of these houses and behind the auto body shop … here we are!
"FEINSTEIN: You know, the funny thing is a farm like this would not have even been legal until 2013, when Boston revamped its zoning code. …
"COONEY: My name is Shawn Cooney. And I'm the partner and owner of Corner Stalk farm in East Boston, Massachusetts, and we started in 2014. So this is it. … Basically you've seen the whole of the farm by walking the 120 feet or so. …
"O'NEILL: Are those the plants in those columns all up and down?
"COONEY: Right. You really need just an industrial area [where] you can basically bring as many plants as possible into as little amount of square footage as possible. … In a real farm, you're talking about square footage and acreage. Here, it's really cubic feet. We've got so many feet on the floor, but we plant plants up to ten feet high. …
"We've got a climate control system, and a lot of fans keep the air moving so that everything's happy. And the plants get a little bit of stress. If you just leave them without any movement, the plants actually get weak. …
"They do need to be moved around for them to have a good texture to them, so that the cell walls are thick enough, so that it's not just eating a piece of water. …
"You can log into it from the outside world. If you want to fiddle around with settings, or just check on everything, you can do that from home, you can do it from from vacation. …
"FEINSTEIN: So how did you get into this?
"COONEY: I started three software companies and sold them. … My wife and I myself funded it, and we have loans [from] the US Department of Agriculture. …
"Mainly we grow lettuce. That's our business. And we've grown tomatoes, we've grown lots of flowers, we've grown all kinds of herbs, and God knows what else. But [what] people buy every day is our greens, even our restaurants, that's what they want. …
"FEINSTEIN: What type of environmental cost are you saving? …
"COONEY: One of the things we definitely don't do is waste any water. No matter how good you are at growing outside, you could never grow with the kind of water use we have. We use, say 1000 plants we can grow in one unit, we probably use 25 gallons of water a week. So you couldn't water your patio plants for a week with 25 gallons and keep them alive. …
"We adhere to the organic principles. Generally, the way we control any kind of a pest in here is kind of preemptive. We basically use ladybugs. We ship them in once a month or so, and sprinkle them around, and they pretty much do the policing of any kind of bugs in here. And when we have had to use something it's called chrysanthemum oil. …
'You guys want to try something a little, little further on the edge? This is called wasabi arugula. And I grow it for a couple of restaurants. And they use it instead of wasabi on their crudo and their raw fish and their raw meats. So here, take a leaf of that and be prepared. …
"FEINSTEIN: It does taste like wasabi. But it it's a little milder, but I love it."
More at Living on Earth, here.