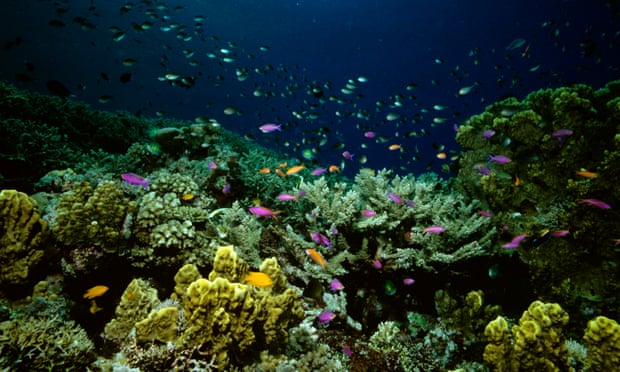 Photo: Auscape/Getty Images/Universal Images Group
Scientists hope to restore damaged coral on the Great Barrier Reef with a technique that has seen success in the Philippines.
As I was preparing this post on an effort to save the Great Barrier Reef, I stumbled upon the news that the 37-year-old ocean warrior behind the climate-change movie Revolution, Rob Stewart, died a year ago in a dive off Key Largo.
That gives a whole different cast to my thoughts. I was going to say something about how happy he must be about the new coral-breeding program that offers a "glimmer of hope" to the Great Barrier Reef. Now it's "how happy he would have been." The world can ill-afford to lose an energetic ocean crusader like Stewart.
As the Guardian reports, the coral-breeding project has seen success in the Philippines and is now being tried in Australia.
"Scientists have stepped in as environmental matchmakers by breeding baby coral on the Great Barrier Reef in a move that could have worldwide significance.
"Coral eggs and sperm were collected from Heron Island's reef during [the November 2016] coral spawning to produce more than a million larvae. The larvae were returned to the wild and placed on to reef patches in underwater mesh tents, with 100 surviving and growing successfully.
"The lead project researcher and Southern Cross University professor Peter Harrison, who discovered mass coral spawning in the 1980s, says the 'results are very promising.' …
"The project has the ability to restore damaged coral populations and has seen similar success in the Philippines where blast fishing using explosives to kill schools of fish has destroyed coral.
"The Great Barrier Reef Foundation managing director, Anna Marsden, said the research is an important step for the reef, but one that should not lessen the strong action needed against climate change."
That's because, as I learned watching Stewart's movie, it's the CO2 resulting from climate change that is the big danger.
More at the Guardian, here. See also my review of the movie Revolution, here.