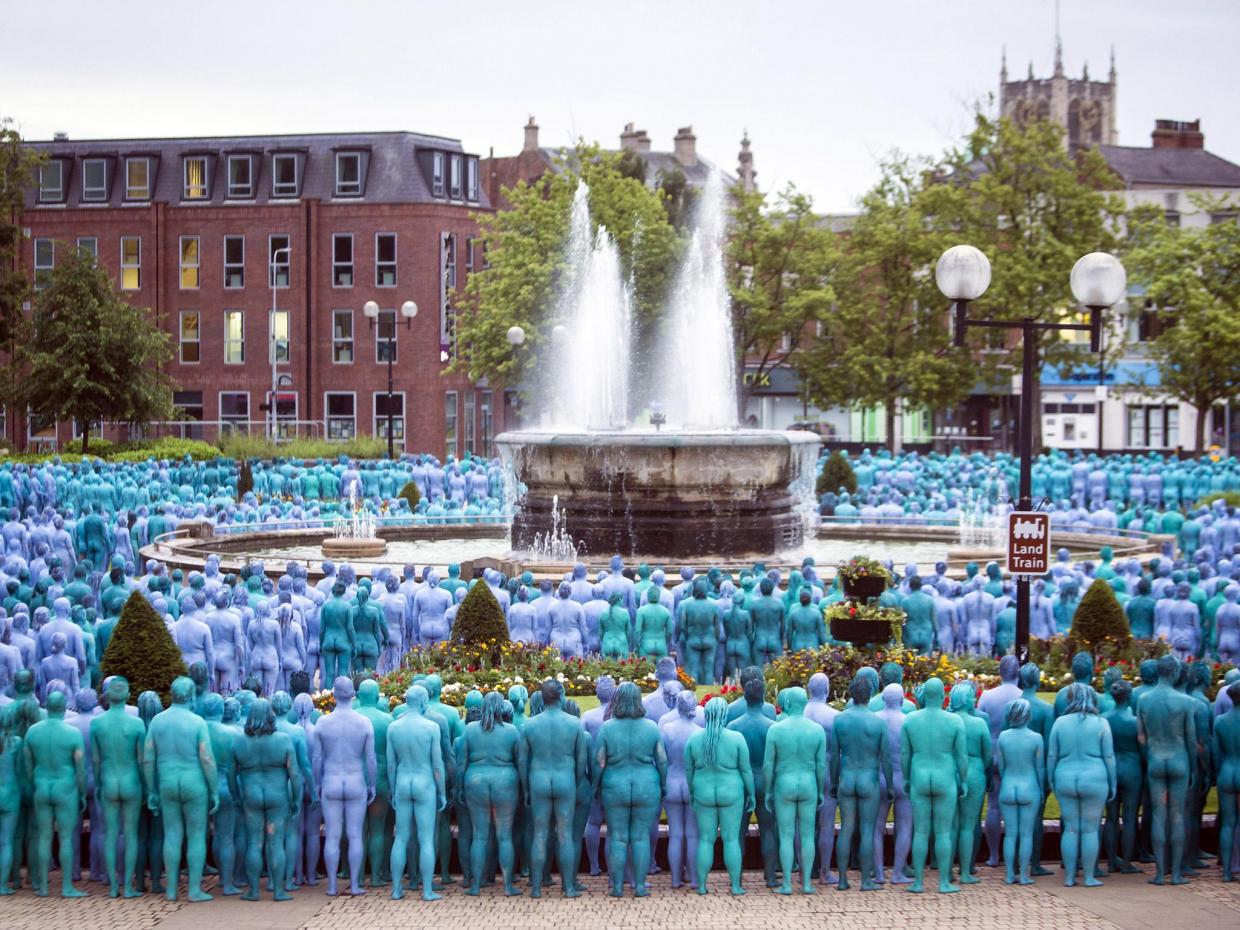 Photo: Getty
People take part in an installation entitled Sea of Hull, by artist Spencer Tunick.

The notion that the arts and related fields like graphic design can boost local economies has been an article of faith for decades, causing disappointment when it frequently fails to lift whole cities above poverty.
Nevertheless, done right and with other stars in alignment, it can be a piece of the economic puzzle in a changing world.
Here is a recent angle from Kingston upon Hull in the UK.
David Barnett reports at the Independent, "On New Year's Day, a firework display heralded the beginning of Hull's tenure as the Britain's City of Culture. Multimedia stories from the city's maritime and industrial heritage were projected on local buildings in front of a crowd of thousands.
"Over in the Hull City Museum they like a bit of culture and they know Hull's had it for a long time; exhibits go back to the Paleolithic era. There's also a recreation of a Roman bath house, featuring mosaics discovered in the 1940s in the Roman settlement of Petuaria, modern-day Brough in East Yorkshire.
"But never mind the Romans … what, the people of Hull might be asking, in true Monty Python's Life of Brian style, has culture ever done for us? …
"It regularly tops the deprivation rankings for the UK's 326 local authorities – according to the Kingston upon Hull Data Observatory's latest figures, Hull ranks as the third most deprived local authority generally, and tops the lists of deprivation for education, skills and training. ..
"Perhaps a typical, post-industrial Northern city. Its traditional industries of whaling and sea-fishing have declined, as elsewhere; Hull still remains a large port, though, and there has been a successful drive to attract chemical and health companies to the area. …
" 'There might well be degrees of scepticism about what culture can mean to a place like Hull,' says Robert Palmer, the director of the team that won and managed Glasgow's successful bid to be named European City of Culture (as it was then known) in 1990. 'But being designated a capital of culture can bring long-term effects in terms of the legacy it can offer.' …
" 'We employ a very broad definition of culture,' says Palmer. 'It's not just what people might think of as "fine culture." It's not just opera. …'
"Which is why Hull's City of Culture website lists events for the coming year that range from acrobatics to walking tours, by way of cabaret, jazz, literature, parkour and, yes, opera. Which is all very nice, but is it just a distraction from the problems facing Hull?
" 'There are tangible economic benefits,' says Palmer. 'We've seen it before in all cities that get a culture status, it's well documented. Visitor numbers, job creation, the social impact through participation from social groups who are not normally involved in culture. The benefits are incontestable.' "
Lots more here.
Perhaps one year of intense focus on the arts and culture can energize enough residents to keep the momentum going. It certainly seems to have done so for Liverpool, another struggling postindustrial city that was a UK City of Culture in 2008.
One wonders if a designation as, say, a City of Math and Science might have the same kind of long-term ripples.