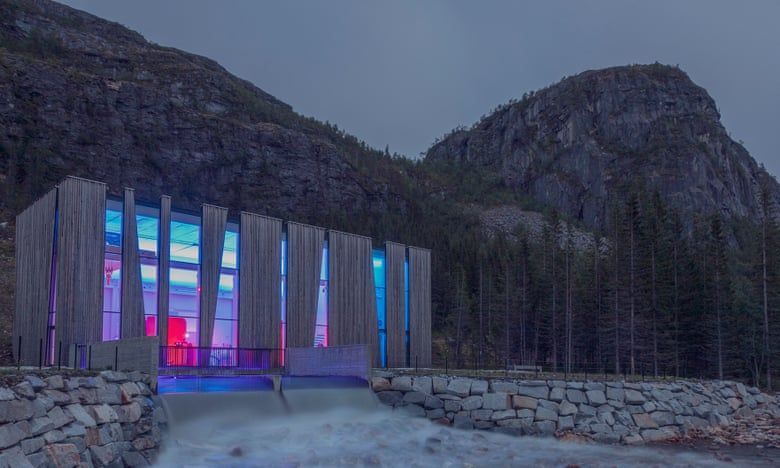 Photo: Pedro Alvarez for the Observer
Øvre Forsland hydroelectric station in northern Norway.

So while we're on the subject of removing pollutants using artistic sculptures, how about an article on creating clean power in an artistic energy plant?
Stuart Dredge writes at the Guardian about "an unusually handsome hydroelectric plant" on the edge of a forest in northern Norway.
"Located in the Helgeland district in northern Norway, [Ovre Forsland is] a small hydroelectric power station capable of supplying 1,600 homes with power.
"Designed by Norwegian architecture firm Stein Hamre Arkitektkontor, it sits on a riverbed at the edge of a forest, with an exterior that aims to reflect the irregular shapes of the spruce trees forming its backdrop. …
"Says Torkil Nersund, production manager at the plant's owner, energy company HelgelandsKraft … 'This region is known for its spectacular nature, so we thought the building should try to live up to the surroundings.' …
" 'Øvre Forsland does not only serve hydropower to people in the region. Its purpose is also to bring attention to hydropower, the history around it and the benefits,' says Nersund. …
"Øvre Forsland is also angling for the attention of people who come to Helgeland for its hiking trails and beautiful scenery. Those visiting the power station can look through a tear in the building's exterior that reveals its innards: the turbines. …
"The emphasis on this harmony, and on renewability in general, can be seen in the fabric of Øvre Forsland itself. The architects used Kebony wood, sustainable softwood that has been treated with a bio-based liquid to make it more like hardwood. …
" 'We hope that the Government also sees that hydro power has a great future ahead and that they facilitate the development of Norwegian hydro,' says Nersund."
Hat tip: @VictoriaLynden on twitter.