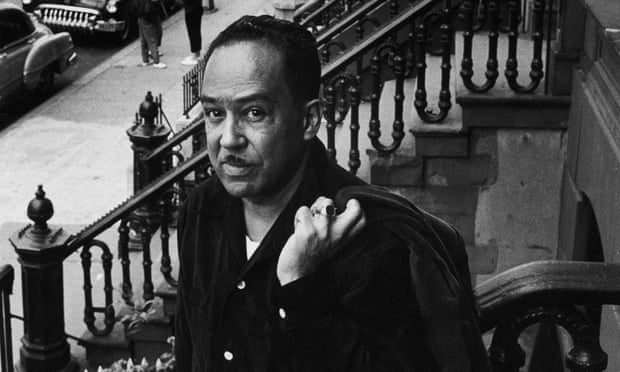 Photo: Robert W Kelley/Time Life Pictures/Getty Images
Langston Hughes on the front steps of his house in Harlem, June 1958.
Before Suzanne and Erik moved to Providence, they were living in a lovely renovated brownstone in Harlem.
There's a fine line between newcomers investing where there's been too much disinvestment — and gentrification. The early changes seem to benefit a neighborhood and its people, but inevitably rising property values push out many longtime residents and institutions.
Today, a group of Harlem artists from various disciplines are banding together to keep a significant piece of the Harlem Renaissance around to nourish African American arts.
Tom Kutsch writes at the Guardian, "All that signifies the legacy of a house once occupied by the poet laureate of Harlem is a small bronze plaque, partially covered by a cedar tree's branches and the green ivy that envelops much of the building.
"The onetime home of Langston Hughes has sat largely unoccupied for years, but a new movement is trying to reclaim, for a next generation of artists, the space of a man who is forever intertwined with the Harlem Renaissance.
"Spearheaded by writer, performer and educator Renée Watson, the collective effort is busily trying to raise the necessary funds to purchase a lease and make needed renovations to the house. …
"Watson plans to make the Hughes house the home of the I Too, Arts Collective that she launched alongside the effort, which aims to, in her words, have 'programming that nurtures, amplifies, and honors work by and about people of color and people from other marginalized communities.' …
"The collective gets its name from one of Hughes's most famous poems – I, Too – in which his narrator concludes by intoning:
They'll see how beautiful I am
And be ashamed—
I, too, am America.

"Watson is using the crowdfunding website Indiegogo to solicit donations for the project, for which they're hoping to raise at least $150,000 to cover a lease and begin the renovation process. By the time of publication, they had raised more than $54,000, already exceeding the $40,000 Watson says would cover at least a six-month lease. …
"For more than a century, Harlem has been inextricably linked to black life and culture in America; the birthplace of the aforementioned Harlem Renaissance, which fostered a wide array pre-eminent black artists and writers, from Zora Neale Hurston to Claude McKay and Duke Ellington. …
" 'The erasure of black Harlem may come despite our best efforts …' said Tracey Baptiste, a local children's author who is involved with Watson's collective. 'But this project is about making sure that gentrification doesn't also happen in the hearts and minds of our artists.' "
More here.